Jacques Plante Wins His Sixth Vezina Trophy: This Day in Sports History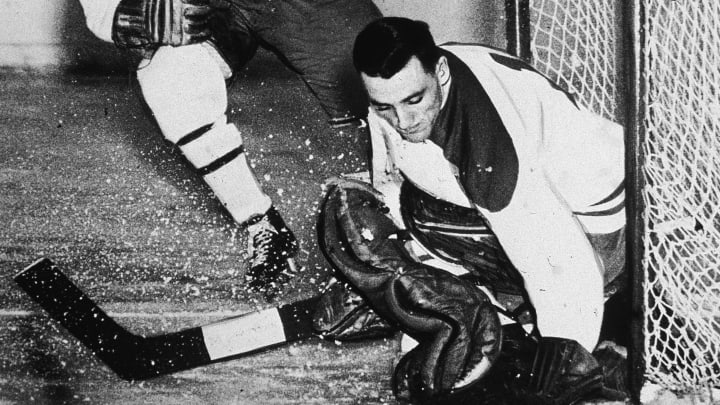 Hulton Archive/Getty Images
On March 27, 1962, Jacques Plante won his sixth Vezina Trophy, awarded yearly to the best goalie in hockey. He would go on to win one more and still holds the record for most Vezina trophies earned during his career with a total of seven. Plante is a pivotal figure in hockey history; not only is he considered one of the best goalies of all time from just about every standpoint, he was also the first to wear a mask in a game.
Plante only played goalie because he had asthma as a child that prevented him from skating for long periods of time. His father made his first goalie pads out of sacks of potatoes. It's truly a Canadian origin story. Plante played on the town's factory team when he was a teenager and was paid fifty cents a game after he found out the other players were paid and demanded similar treatment. After graduating high school, Plante became a clerk before joining the Quebec Citadelles in the minor leagues.
This is when Plante's innovative playing style began. He started to leave the goal to chase the puck to offset his team's poor defense. His coaches were not pleased and wanted him to stick to the practice of never leaving the net, but Plante refused. Now it's expected for goalies to cover for their defenders when they can by leaving the crease to lock down the puck and prevent another offensive possession. His team ultimately beat the Montreal Canadiens' minor-league team in the championship with Plante as MVP, leading Canadiens' general manager Frank J. Selke to bring Plante into the organization beginning in 1948.
Plante hung out in the minor leagues for a few years, but made spot appearances at the highest level and his star-power was clear. In 1954, he locked down the starting gig, kicking off a string of five straight Stanley Cup titles for Plante and the Canadiens. During the 1957-58 season, Plante suffered from bronchitis. He would power through the illness to help Montreal win its third Stanley Cup, but collapsed on the ice after the team scored the championship-clinching goal in overtime. He would go on to make a full recovery.
The following season, Plante underwent a sinusitis operation and had to wear a facemask in practice while recovering from the surgery. Head coach Toe Blake (my god, what names these old-time hockey guys had) forbid him from wearing it in games because he felt it would impair Plante's vision. Plante was hit in the face by a puck later in the year and had to go to the locker room to receive stitches. When he came back, he was wearing the classic Jason-style mask that was the launching point for all goalie masks we see today. Toe was incensed, but since the team had no other goaltenders, he told Plante he could wear it while the stitches healed. This kicked off an 18-game win streak, throughout which Plante refused to take off the mask. When he finally listened to his head coach, the Canadiens lost 3-0 to break their winning streak. As all athletes are intensely superstitious, the mask returned afterwards and never went away.
Plante would go on to win a total of six Stanley Cups, seven Vezina trophies, and an MVP award. He was named one of the 100 greatest players in NHL history back in 2017 and was elected to the Hockey Hall of Fame in 1978. He was a trendsetter and will go down as one of the best net-minders ever. Fifty-eight years ago today, he was riding high near the end of his prime, and hockey won't forget the impact he made.