Jackson Mahomes Posts TikTok Dancing on Sean Taylor Tribute, Later Apologizes and Deletes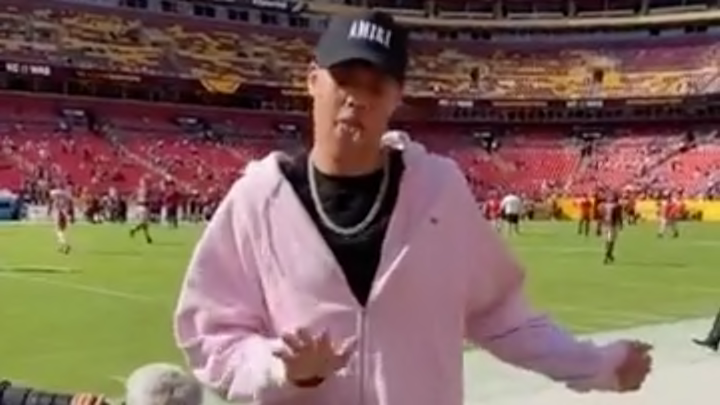 Jackson Mahomes /
Jackson Mahomes, brother of Patrick, has made headlines yet again. A few weeks ago he appeared in TMZ because he dumped water on a taunting Ravens fan in the immediate aftermath of the Kansas City Chiefs' close loss on Sunday Night Football. Now his actions this past Sunday in Washington are causing fresh outrage.
Other than being a family member of one of the most famous athletes in the country, Jackson also has a very popular TikTok account with nearly one million followers. He posts TikToks regularly, and usually posts at least one from whatever stadium the Chiefs are at on any given Sunday. Yesterday was no different. He posted a couple of short TikToks of him dancing that you can find on his profile, but it's the one you can't find that has the people talking.
It turns out Jackson ended up on the sideline at some point during the game and posted a TikTok of him dancing down there. Not a big deal. Except he was dancing directly on the Sean Taylor tribute the team introduced that day on the field.
Yeah, that seems inappropriate. Jackson deleted the TikTok shortly afterwards and then tweeted out an apology after the Chiefs' win, saying he was instructed to stand on Taylor's tribute and did not realize that is where he was.
In any other stadium run by any other owner in the entire league, this would feel dubious. Especially since other photos show Taylor's tribute area was roped off.
However, this is Dan Snyder's team we're talking about. The same team who announced Taylor's tribute ceremony mere days before it was to be held, "coincidentally" coming in the immediate aftermath of the Jon Gruden scandal that shone an even worse light on former team president Bruce Allen. Do we really think it's ridiculous that they may have told sideline visitors to stand there without considering the disrespect of the action? I do not.
Sheer incompetency all around here. The WFT should have used any other square footage of the hundreds of feet of grass they have down there to host guests with sideline passes. Jackson Mahomes should have shown even the slightest situational awareness and/or looked down before recording a video of him dancing and posting it to his hundreds of thousands of followers. While we're at it, the head honchos in charge of the Taylor ceremony perhaps should have thought about creating a tribute that wasn't on the ground, thereby avoiding any possibility of something like this happening.
An almost shocking display of ineptitude from the parties involved, but then again, it feels like another day at the office for the Washington Football Team.