Jackie Robinson Breaks Through: This Day in Sports History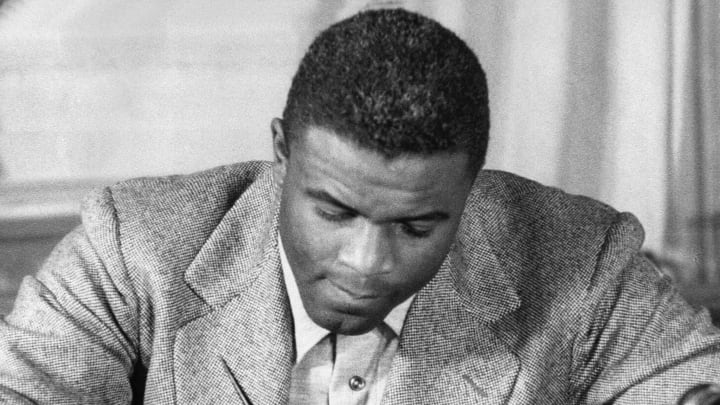 Jackie Robinson / STR/Getty Images
Today is the day every Major League Baseball player would have worn No. 42 to honor Jackie Robinson, a trailblazing and monumentally important figure in American history. Most are familiar with the broad strokes of his challenging and iron-willed rise to break baseball's color barrier. They know he was the perfect blend of talent and personality to take on the task.
What gets lost sometimes is just how productive Robinson was once he joined the Brooklyn Dodgers in 1947. He won Rookie of the Year while leading the National League in steals. Two seasons later he'd take home the MVP while hitting. 342, driving in 124 runs, and swiping 37 bags. This kicked off six consecutive seasons in which he posted an OPS over .900 while playing acrobatic and effective defense on the right side of the infield.
Brooklyn Dodgers general manager Branch Rickey, who invented the farm system, signed Robinson to a minor league deal in 1945. The former UCLA multisport start would captivate fans in Montreal before signing with the major league club five days before the start of the 1947 campaign.
Robinson's debut against the Boston Braves did not come in front of a packed house. Rumors of a sellout actually drove attendance down and only 26,623 were on hand, though that number would grow over time as people wanted to attach themselves to the history of the day.
Hitting second and playing first, Robinson grounded out to third, flew out to left, and grounded into a double play in his first three at-bats. In the seventh inning, his sacrifice bunt was mishandled and a throwing error allowed him to score the eventual game-winning run for the Dodgers, who were playing without manager Leo Durocher due to suspension.
Asked by reporters after the game he had any butterflies in the big moment, Jackson replied:
"Not a one. I wish I could say I did, because then maybe I'd have an alibi if I don't do so good. But I won't be able to use that as an alibi."
Robinson, at least through real-time quotes, approached his remarkable day as unremarkable, instead focusing on more pressing issues. Like getting some solid shuteye.
How did he like playing first-base, a position totally strange to him up to a few weeks ago?

"Fine, fine," the 28-year-old negro insisted. "I've still got an awful lot to learn about it, but I'm glad to play anywhere they want me to. First isn't as easy, though, as some people think it is.

"What I need more than anything right now," he went on, abruptly changing the subject, "Is an apartment. I'd like to get one over here in Brooklyn if I can. I've got my wife and baby boy in a hotel in New York, and when the boy cries at night all we can do is get up and walk with him. That isn't good."
Two days later, Robinson would notch his first Major League hit, then go on a 5-for-12 stretch over the next three games. He was an immediate impact player, scoring runs in nine of his first 10 contests. All of this before he started getting on base with regularity, which he'd soon do.
Robinson was inducted into the Hall of Fame in 1962. It's fun to consider what type of statistics he would have put up had he been able to play in the majors before turning 28.