The Notre Dame Broadcast Booth Can't Hurt You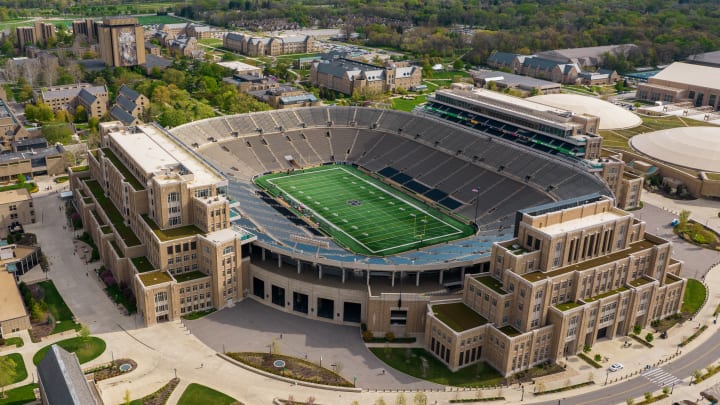 Quinn Harris/GettyImages
Okay, so Jac Collinsworth and Jason Garrett weren't your picks to take over the Notre Dame football broadcast. What now?
You're either feeling this way because a love for the Irish courses through your veins or you tune into NBC for a few fall Saturdays and root against the most storied brand in college football. Life's funny like that. Two poles can meet in the middle and share common ground.
The backlash to Collinsworth, a 27-year-old with precious little play-by-play experience and a famous father, getting the gig is understandable. But it's certainly not the first time someone's son followed familiar footprints and leveraged that relationship to speed up a time. And it won't be the last.
Meanwhile Garrett went to Princeton and happened to work with Collinsworth on USFL broadcasts, which was apparently doing enough to get the nod. It's no secret that the network is scrambling for bodies and will continue to build out infrastructure as the college athletics package grows. This pairing isn't much of a surprise because there weren't many other options.
So with great trepidation and knowing full well the required reactions of such a news cycle, allow me to present a positive spin. Collinsworth and Garrett will be fine. They won't be distracting enough to take away from any of the passion a Notre Dame fan is going to bring to the game. If they somehow are a step down from Drew Brees trying to learn on the fly, then it will be another reason to watch.
The Irish experience is the Irish experience because so many people are tuning in just to hate. If they want to clown on the booth, those eyeballs still count. Try as I may, it's hard to understand the headspace of someone claiming to be righteously pissed-off by a new Notre Dame booth.
Life's just too short for that.