J.T. Realmuto Claims to Get Hit By Pitch, Umpire Takes His Word For It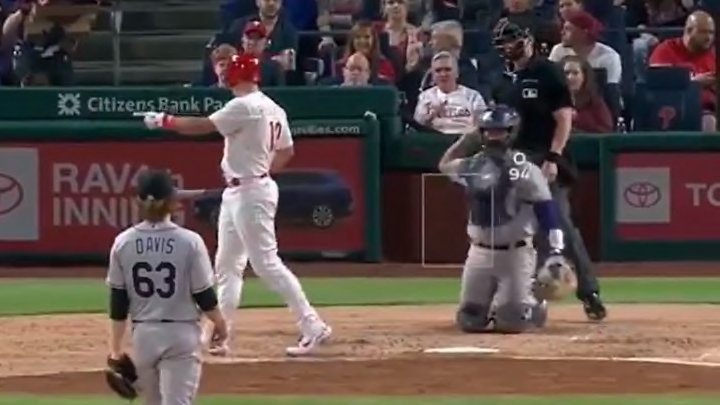 J.T. Realmuto is a crafty veteran who will take any chance he can to get his team an advantage. And the Philadelphia Phillies catcher did just that Friday night.
During a game against the Colorado Rockies, Realmuto came to the plate in the bottom of the fourth, with runners on first and second and no outs. He took a pitch up and in from Rockies righty Noah Davis, and immediately acted like he'd been hit. He started walking towards first and somehow convinced the umpire the ball had clipped him. I'm not sure it did, but maybe we just don't have a great camera angle on it. But here's the thing: the home plate umpire -- who made no move to call a hit-by-pitch initially -- just believed Realmuto when he said he'd been hit.
Rockies manager Bud Black saw the same thing the rest of us did and argued with ump Alex Tosi. Black was tossed after a discussion.
Check it out:
Here's another angle where Realmuto looks like he said, "That got me."
I'm sorry but is one of MLB's new rules that they operate on the honor system when it comes to stuff like this? Is it like calling your own fouls in a pickup basketball game? This is fairly ridiculous.
Watching the video back, I have a really have a hard time seeing how that hit him. It's close, but the ball doesn't change direction at all. Realmuto basically convinced the umpire that it did, and Tosi just went along with it.
As you can see in the video, Black is simply asking Tosi to get help from the other umpires and see what they saw, but Tosi refuses.
The Rockies couldn't ask for a review because they'd already used their challenge earlier in the game. It wound up being a consequential play. The Rockies entered the inning with a 3-0 lead, but that hit-by-pitch loaded the bases for the Phillies. They wound up scoring two runs in the frame.
Realmuto just taking advantage of the incompetence of MLB umpires. Well played, sir.