Is The Masters Tiger-Proof When It Comes to Television Ratings and Popularity?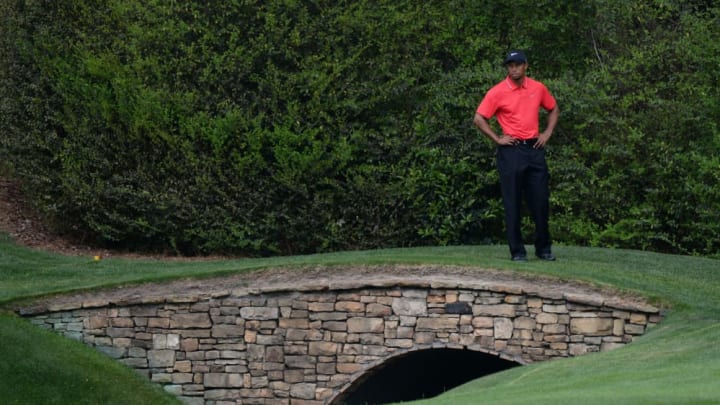 In 2002, Augusta National, home course of the Masters Tournament, made several changes, commonly referred to as "Tiger-proofing", which included lengthening several holes and adding additional challenges to make life tougher on the best golfers in the world. Tiger Woods still won the tournament that year–his third title in six years–but has won only one Masters tournament since 2002.
This year, Woods announced that he will miss the Masters Tournament for the first time since he turned professional. CBS, the long-time broadcast partner of the Masters, will find out if it is properly "Tiger-proofed" in a different way: will the tournament's popularity carry on this weekend without a large hit from Tiger's absence?
Interestingly, though Woods' was the impetus for the two most viewed tournaments with historic victories, his contention has not as big of an effect on Masters ratings in recent years as one might suspect. Whether or not the tournament falls on Easter Sunday, for example, has had as big an impact than whether Woods has fallen on the leader board.
The last time Woods did not participate in a Masters Tournament was in 1994 (he participated for two years after that as an amateur). To put that in perspective, the last time Tiger and the Masters were not intertwined, O.J. Simpson was still a popular former NFL star, the United States had yet to host a World Cup, and Ace of Base was giving us "The Sign."
It's hard to fully pinpoint Woods' popularity and the impact on coverage of the event, versus the natural progression of technology and demand, as the Masters has undergone many changes beyond the physical lengthening of the course. Today, you can watch as much of the Masters as you want, stream video from your office, watch featured pairings, or watch certain select holes from an app.
In 1994, the Sunday broadcast did not televise the full round by the leaders; they only showed the back nine, bringing viewers up to date in the middle of the round with taped highlights setting the closing scene. "I've wanted to do the front nine for 20 years; the club just doesn't want it," Frank Chirkinian, the CBS producer and director for the Masters, told Dave Anderson of the New York Times that year. "I think eventually enough people will want it that they'll have to reconsider."
By 1997, when Woods was surging to his first title and the public clamored to see history, the Masters broadcast picked him up after his round was underway, at the 5th hole. By 2002, the entire Sunday round for the leaders was broadcast live. Woods' domination in 1997, winning by 12 strokes, still remains as the highest-rated Masters ever. "The numbers were fabulous. Golf had a historic day. Tiger had a historic day and CBS had a historic day. It was absolutely incredible. Just incredible," said CBS Vice President Robb Correia at the time.
The second-highest rated Masters came in Woods' second victory, in 2001. In 2010, when Woods returned to play in the Masters following a self-imposed hiatus after news of his marital infidelities had been revealed, he was in contention and the Masters had its third highest rating. In 2012, when he fell out of contention and had his worst finish at the event as a professional, the ratings dropped to around an 8.0 rating according to most reports (that rating is based on the percentage of television households watching the event, so an 8.0 rating would equal 8% of all television homes watching).
Ratings Have Been Higher When Woods Won, But Continued Impact at Masters Not So Clear
It would seem, then, that Woods' absence will have a profound effect on this year's ratings. After all, when he has won, ratings have soared. On the occasions he has been out of contention, they have waned. This relationship, though, has not been clear cut, and is certainly subject to plenty of other variables. Finding reliable ratings info historically is difficult–some refer to "overnight" ratings, some final ratings, and some interchangeably. While ratings were located for all years, some sources also conflicted by a few percentage points. Thus, I will use the phrases "approximately" or "roughly" when referring to some of the Masters ratings here.
Masters' ratings when Woods wins have been very good. The average television rating in his four wins has been approximately 11.6. However, that includes the 1997 victory, which was a singular event, which has not since been duplicated with Woods playing at Augusta. The second win was in 2001, when Woods won the Masters as part of winning four straight Grand Slam events, and was also a historic event. The ratings for his last two victories were both below 10.0.
All other Masters with Woods, when he has not won, have averaged approximately a 9.1 rating. While there is some relationship between Woods being in contention and the Sunday rating, it should be noted that, in the three Masters where he has finished within 3 strokes of the leader, the television ratings averaged roughly an 8.7. That's only marginally better than the four tournaments where he has been clearly out of contention and finished at least 9 strokes back (8.4 rating, approximately).
Masters Avoids Easter Sunday in 2014
Easter Sunday, as it turns out, could be as big a factor as a contending Tiger when it comes to ratings. CBS can be thankful that Woods is not sitting out on an Easter Sunday, which falls a week after the tournament this year.
In 2012, publications decried the drop in ratings despite a compelling finish with Bubba Watson, and most attributed the drop to Tiger Woods being a non-factor. Possibly, but it was also Easter Sunday. Woods has never won a Masters on Easter Sunday, and has not played his best on those weekends (average finish: 18th on Easter). Easter Sunday has contributed to the three lowest rated Masters of the Woods era, and the average on Easter has been an 8.6 rating. The Easter Sunday effect has been more noticeable since CBS went to the full broadcast of the leaders, which makes sense, as the rating is an average across the entire broadcast, and that pushes the start times into Easter dinner times.
The Masters is the Highest-Rated Golf Event, With or Without Tiger Woods
Woods sitting this one out has already had an impact on the ticket market. According to this CBS report, four-day badges to attend the tournament can be had for $3,400, down from just over $4,000. No doubt that the presence of Woods would increase demand. People are still paying over $3,000 to attend the entire four days.
Woods' presence–or absence–has a larger impact on other events than the Masters. In 2009, Nielsen.com compared tournaments Woods missed in 2008 due to injury to the same events where he played the previous year, and found that ratings were down nearly 47%.
Don't expect such an impact this year at the Masters. It is the most prominent event on the golf calendar, and almost always delivers the highest ratings. Woods and the Masters are a good combination, but the Masters without Woods (or with a non-contending Woods) has drawn better than pretty much any other event that had Woods winning.
In 2012, when ratings were so low, Woods failed to be a factor, and it fell on Easter Sunday, the Masters Sunday coverage was still the top-rated golf event by a large margin, and was the 28th highest-rated sporting event. In 1996, the last time Woods did not play on the weekend after missing the cut as an amateur, Greg Norman blew a large lead to Nick Faldo on the back nine in some compelling television, and the event garnered a 9.6 and 10.0 rating depending on the source.
The tournament is a "tradition unlike any other", with a base of fans who make viewing the Masters part of their spring. That base was augmented by Woods' arrival, bringing in more fans, some who have remained loyal to the event, and others who will show little interest with Woods out. The base, though, is large enough that Tiger Woods will be missed but not catastrophic for CBS, who will get to showcase a number of other young golfers for the Masters core audience (5 of this year's Masters' rookies are ranked among the best in the world).
Absence also makes the heart, and eyeballs, grow fonder. Tiger is not drawing his 1997 numbers every tournament. His return in 2010 was a big story, and the ratings again bumped. A revival and return will be a bigger story than if he played every year. Whatever small amount of casual viewers CBS misses this year they can make up next year by Woods being a more compelling figure in his return to Augusta.