Inside Blitz: Reggie Miller is the Early Favorite to Replace Greg Anthony in the NCAA Tournament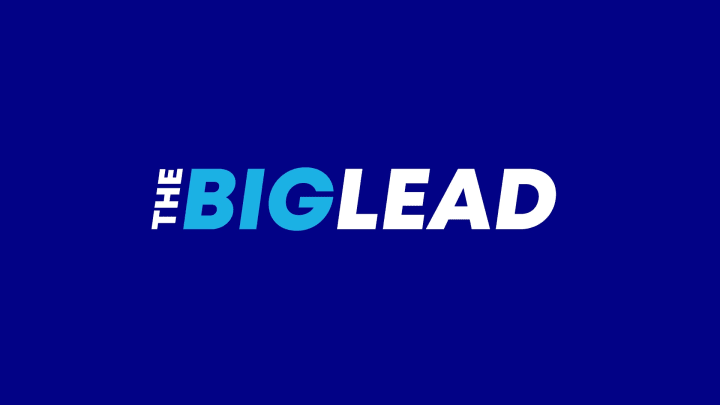 The idea for a sports/media/gambling column was hatched this summer and you can look for it every Wednesday. If you want to yell at me about something that appeared here – because let's face it, on the Internet, it's outrage or nothing: Jmcintyre at thebiglead dot com.


CBS is moving quickly to replace suspended analyst Greg Anthony on NCAA Tournament coverage this March, and the early leader may surprise you: Reggie Miller. Although it's been less than a week since Anthony was arrested for solicitation of a prostitute, multiple sources at the network tell Inside Blitz that Miller already has strong backing from executives.
Before flipping out about the fact that Miller doesn't work enough college basketball games, remember this – when Greg Anthony was shockingly promoted to the No. 1 college basketball analyst spot in 2013 in place of Clark Kellogg, Anthony had never called an NCAA tournament game.
He'd been a broadcaster for 10 years.
So why is Miller the early favorite to be Anthony's replacement? Because as detailed here in 2013, it isn't just a CBS decision – it's a Turner/CBS decision. When CBS leaned on Turner as a partner in 2011 to keep the Tournament away from ESPN, Turner slowly took over, putting several of its marquee names – Charles Barkley, Kenny Smith, Steve Kerr, Anthony – into prominent spots.
The Final Four was on TBS in 2014, and it will be in 2015. In 2016, the NCAA Tournament Championship game will be on TBS.
It'll be interesting to see what the networks decide for their eight tournament announcing teams in March because two of their top three analysts from last year – Anthony and Kerr – are gone.
By all accounts, Miller is a terrific guy, funny to be around, and he does generate strong opinions (often, for all the wrong reasons). That said, my move would be a 3-man booth, and Bill Raftery would certainly be one of the guys in the booth. Fans love him, he's a laugh-a-minute, he's got stories galore, and knows the teams and coaches as well as anyone. I'd fill out the final spot with a former player, either Clark Kellogg, Doug Gottlieb, Len Elmore or Dan Bonner.
Yes, I actually do enjoy Bonner's enthusiasm even if he's constantly way, way over the top. And I've enjoyed Elmore for probably two decades now. Then again, I was a big fan of Billy Packer.
A surprising face turned up on the Fox Sports TV lot in Los Angeles earlier this month: Former ESPN producer Jamie Horowitz. The creator of successful, money-making shows – and controversial, too – on ESPN2 met with multiple executives at the network, sources confirmed to Inside Blitz.
What was Horowitz – stunningly fired by the Today Show in November after the fledgling morning show hired him last summer in hopes of getting back to No. 1 – doing in LA?
Well, in December, Scott Ackerson, the Executive Vice President at Fox Sports – who was in charge of news at Fox Sports – suddenly retired. The position has not been filled.
Need a calculator to add it up?
Horowitz didn't return a text message seeking comment. But he can't make any decisions in the immediate future – Ann Curry's NBC settlement took forever; no telling when Horowitz's will be complete – and it's unclear if he'd even consider relocating from Connecticut to Los Angeles. But industry insiders think the move could have ripple effects throughout the network and perhaps industry. I'll hold off on rampant speculation for now because it's very early, but keep this in mind: When Horowitz left ESPN in 2014 for NBC, he obviously was restricted from bringing colleagues with him.
But with the abrupt departure from NBC, does that mean if he were to go to Fox, he could instantly go after anyone at ESPN?
Among the on-air people Horowitz worked with most closely with at ESPN – Skip Bayless (revamping 1st Take), Michelle Beadle (Sports Nation) & Colin Cowherd (Colin's Football Show).
DONE DEAL
Earlier this winter, we told you that ESPN's Stephen A. Smith had entered discussions about renewing his contract, which expires later this year. Inside Blitz can exclusively report that the deal has been completed, and he'll be staying at the network for the foreseeable future. It's unclear if/when ESPN will announce the extension of his deal, or for how long it is. An ESPN spokesman had no comment
ODDS & ENDS
Sadly, for the second time in two years, the Chicago Blackhawks beat writer for the Daily Herald has suddenly died … if you work at Back9 Network, you may want to fire up the resume … buried in this ESPN press release is the fact that a former Olympian and current wife of Brady Quinn, Alicia Sacramone, is joining the SEC Network. Sacramone is a longtime favorite of the TBL commenting section … so, how are things at Al-Jazeera America going? Not well, it seems … I'd say the chances Kobe takes over on TNT for Barkley next year, or the year after that, or anytime in the next five years at .0001% … this is the kind of story that'll make you want to spend less time on twitter. What's the point? If you have a strong opinion on anything controversial, and express it, you could end up losing your job … this Al Michaels-Cris Collinsworth moment is a couple weeks behind NBC, but this explanation is worth reading … non-sports, but a terrific read on Megyn Kelly of Fox News