Indiana Screwed By Missed Call on Northwestern's Game-Winning Shot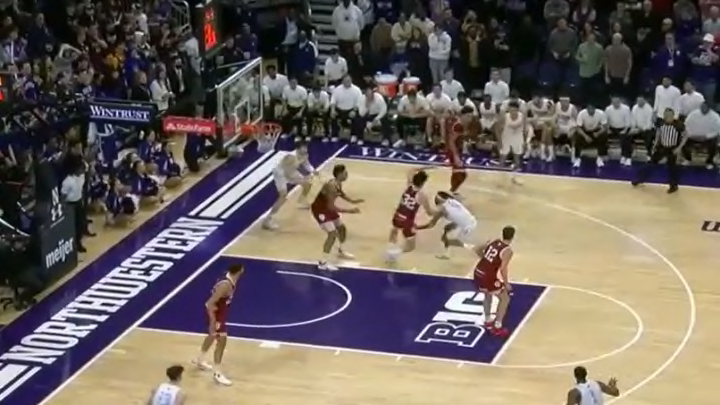 Northwestern took down No. 14 Indiana at Welsh-Ryan Arena Wednesday night in a tight, 64-62 contest. The Wildcats jumped out to a 21-point first half lead and coughed it up in the second half, as Indiana tied the game at 62 with 28 seconds remaining. Northwestern senior guard Boo Buie played the hero though, making a short jumper with two seconds left to win the game. But Indiana fans were furious after the final whistle, as Big Ten officials missed a blatant offensive foul on the play.
Buie wound the clock down before taking Indiana junior guard Trey Galloway one-on-one. As Buie drove down the right side of the lane, Galloway defended him tightly. Then Buie clearly pushed off, shoving Galloway several feet backwards, giving himself the room to make the game-winning jumper. It was clear and obvious and should have been called.
Here's video:
Here's are two other looks, apologies for the video quality:
I'm all for swallowing whistles late in a tough game and letting things like glancing contact, slight hand-checks, etc. go. But Buie lowered his shoulder, essentially shoulder blocked Galloway away, and extended his arm to push off. He gained a clear and obvious advantage from doing so, the foul was blatantly obvious and it led to the game-winning shot. The officials simply have to make that call. Make one of the two teams earn the win in overtime. As if things weren't bad enough, Buie also traveled on the play.
I know some will immediately respond and discuss other missed calls during the game, and claim Indiana got an advantage on another play (or plays) so it evens out. Sure, throughout a game, at least a dozen calls either way were likely missed, but this play came in a tie game with time expiring. There is a huge difference. There was no chance to make up for it or for the team that got screwed to adjust to unjustly suffering a two-point deficit. It's the final play of the game. Officials can't screw that up.
As anyone who watches the Big Ten regularly knows, the conference's officiating is an absolute travesty. The conference has even admitted to egregious mistakes this season. College basketball officials are generally terrible, but the Big Ten's are by far the worst. Wednesday night was just another example of a missed, game-altering call.