Referees Call Horrible Technical Foul on RJ Melendez During Illinois-Houston Game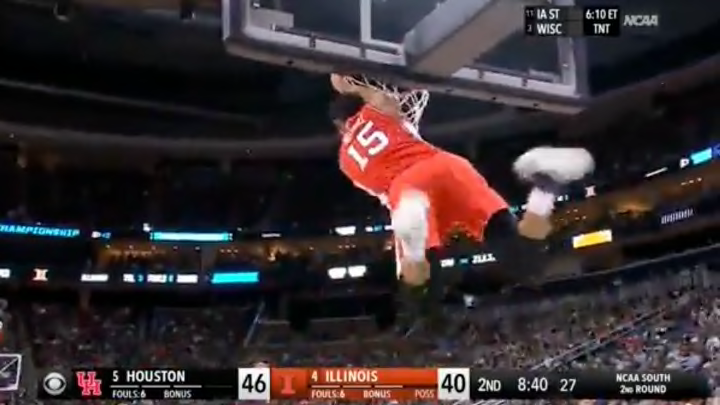 RJ Melendez /
Illinois and Houston were locked in a grudge match on Sunday afternoon with a Sweet 16 berth on the line. Houston's swarming defense stifled the Fighting Illini early on, but the freshmen group for Illinois spurred a comeback off the bench. It's been an ugly but quality game.
Halfway through the second half, Illinois was down by six when they stole the ball from Houston and got RJ Melendez on a fast break. He went up and dunked it, but held onto the rim to allow his momentum to swing back the other way and land safely. This was apparently enough for the referees to step in and call a technical foul for hanging on the rim.
It's absolutely horrendous. In a tight game like this, momentum is very tenuous. The referees swung it Houston's way with this brutal call in that moment. And, regardless of circumstance, it was an atrocious call. Anybody with eyes could see that he needed to hang on there in order to come down without hurting himself.
Reggie Miller nailed this. He was incensed and called it as he saw it. What an awful decision by the officiating crew.