Ian Eagle Caught a Pass From James Harden, Made an Excellent Call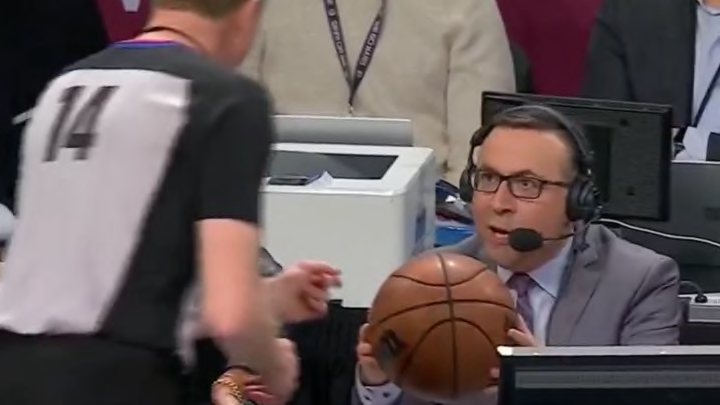 A highly trained team of professionals convinced James Harden to play competitive basketball in exchange for a tremendous amount of money so he's doing that for the Los Angeles Clippers. This year promises to be a fun ride as we all employ the Scientific Method to observe whether this great roster experiment bears fruit or falls woefully short yet again. The early returns are a bit uninspiring as the Clippers sit at 3-4 after a Wednesday night loss to the Nets in Brooklyn. There are no less than 2,000 basketball podcasts you can listen to in order to break down the film and we know our niche so let's focus on Ian Eagle, voice of the Nets and perennial Best Play-By-Play announcer nominee, who was seated courtside and became part of the story when Harden airmailed a pass all the way into Eagle's YES work station.
As we've seen many times before, this funny moment got its own masterful commentary. Eagle immediately recognized that the pass intended for Paul George was way overthrown and coming Eagle's way. Then he informed the audience he had corralled the ball and knew he had it the whole way. Then he said "yes and" by incorporating official Ed Malloy into the bit. He joked that it might be the greatest call in NBA history.
Finally, when the adrenaline wore off a bit, he realized his pants were very wet.
Just a fantastic delivery from start to finish. Hamming it up and riding high then bringing it back to Earth when the crushing reality of a damp lap set in. We've all been there. Not always in public, but we've all been there.