Herm Edwards Wonders How the Chiefs Will Handle the Spotlight Now That They've Won a Super Bowl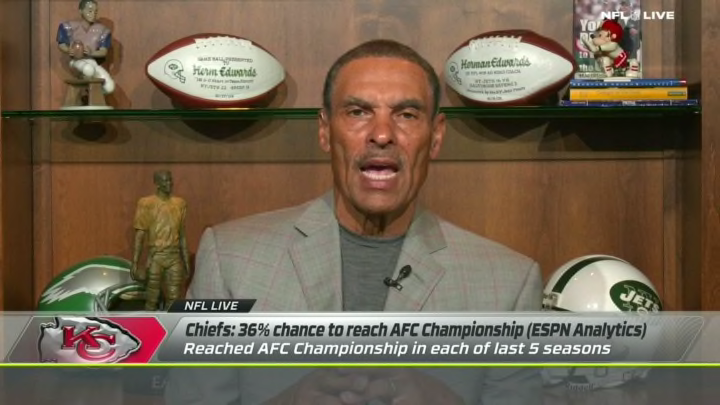 Herm Edwards returned to ESPN in November after multiple years away coaching college football at Arizona State. So if he missed a thing or two that happened in the NFL, well at least he has an excuse for not paying attention. That's why you really shouldn't jump on Edwards for what he had to say about the Kansas City Chiefs on NFL Live on Wednesday.
"Every week you're somebody's big game. You're the hunted now. Everybody is going to play good against the Chiefs because they know they're the world champions. And that's what you've got to understand. And these players have to understand. You're going to get your opponent's best game every week. That's 17 games people are going to be up to play you to try and beat you and that's what you have to guard against. You can't have a let down because you're good enough. You're talented enough to go right back to where you went last year, but the problem is you have to keep your energy level up week in and week out?"
That's a fine question. If you were asking it at the start of the pandemic, a few months after Patrick Mahomes and the Chiefs won their first Super Bowl. It's the kind of question that was then answered when KC went 14-2 and returned to the Super Bowl in the first season when teams started giving them their best games, but again, Edwards was busy recruiting Sun Devils and preparing for USC at the time.
Or maybe it's a question you ask in the offseason before the 2021 season when they were coming off that Super Bowl loss. Can they really sustain this after the disappointment of such a high profile loss while teams are still hunting them? And maybe you would have thought you had a point as the Chiefs only won 12 games and just made it to their third consecutive AFC Championship Game.
Certainly you could have wondered if Super Bowl LIV was a fluke before the Chiefs went 14-3 without Tyreek Hill last season and won another Super Bowl. But now, to ask if the Chiefs understand what it ix going to be like now that they've won another Super Bowl? Well, it seems like you're just filling time with cliches that don't actually apply.