Here's What It's Like to Play a Game With No Fans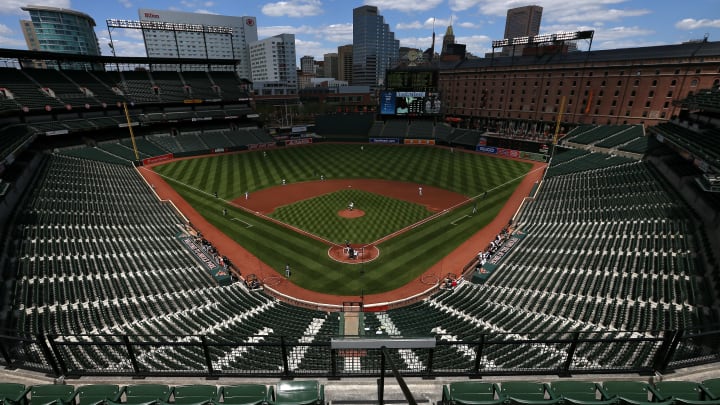 The Chicago White Sox and Baltimore Orioles play in an empty Camden Yards / Patrick Smith/Getty Images
The Golden State Warriors have announced they'll play the Brooklyn Nets in front of no fans on Thursday night to prevent the spread of coronavirus. As a result the Warriors will become the second team in major American professional sports to close a game to fans.
Given that empty arenas could become a regular occurrence across the country, we wanted to look back at the last time this happened. On April 29, 2015, the Baltimore Orioles hosted the Chicago White Sox in a stadium closed to fans. The ongoing civil unrest in Baltimore following the death of Freddie Gray caused the closure.
Watching the Orioles and White Sox play in an empty stadium was eerie and unsettling. But those who participated in the event are the best to recall what it was like. Here are some of the quotes that came following the Orioles' 8-2 win.
Orioles broadcaster Gary Thorne:
"There was a real intimacy because everybody understood that they were going to be involved in something that might never happen again — hopefully, doesn't — and a unique situation, and this is the group of people who are going to be inside experiencing it. "
White Sox outfielder Adam Eaton:
""To be honest with you, when I first went into it I didn't think it would be a big deal. There was almost this half-asleep feel because there was no energy. There were no people there. … There was no music. … It was almost like worse than a back-field spring training game. ... As baseball players, as teams, we feed off energy and when there's nothing there, it's a very surreal and weird moment that I'll never forget but I kind of wish I could.""
White Sox manager Robin Ventura:
""It was just a surreal environment. I don't think we really want to play another one like this. … I don't think (the Orioles) do either.""
Orioles first baseman Chris Davis, who hit a first-inning home run:
" "I'll take any home run I can get at any time I can get it, but it's definitely more fun when there are fans in the stands.""
White Sox second baseman Micah Johnson:
""I can't even compare it to anything, but it was definitely weird. It's quiet. There's nothing going on. You hear everything. Obviously it was better for the Orioles than us today. The atmosphere, it's not how baseball is supposed to be played.""
Orioles closer Zach Britton:
""...it was tougher to stay focused on the game than I thought it would be. The noise just echoed off the [B&O] warehouse. … It makes you appreciate the fans who come out and support you. It felt like we were playing in a ghost town.""
From those quotes it's clear the players, managers and broadcasters didn't enjoy the experience and didn't anticipate just how odd it would be. Fans make sports what they are, and playing without them will certainly be a massive change.