The Silence Was Deafening in the 'Get Up' Studio After Harry Douglas Revealed He Lit a Snake on Fire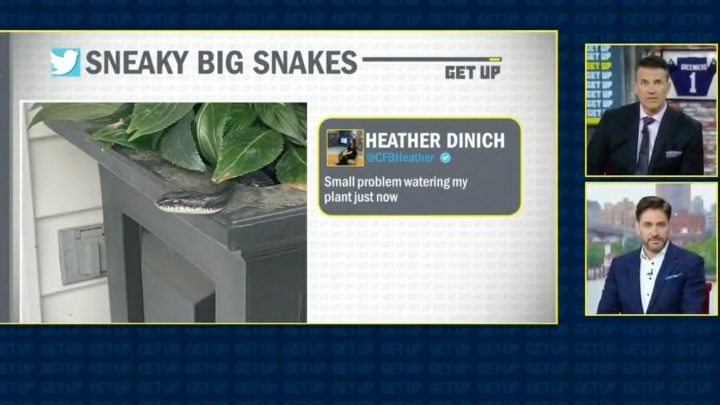 Get Up /
On Tuesday morning, Harry Douglas virtually joined Mike Greenberg and Alan Hahn for Get Up. At one point the team brought up a tweet from Heather Dinich, who works with Douglas on the ESPN's college football coverage, showing a snake she found in her plants. It was supposed to be a silly little sign-off segment before moving onto the meat of the network's daily schedule but Douglas turned it dark real quick.
Greenberg threw Douglas a softball question with some fun wordplay asking him what he thought about Dinich finding the snake. Douglas then revealed that the last time he found a snake he tortured it and set it on fire because it could have gotten to his family. Greenberg and Hahn were both stunned into silence. It was amazing.
Greenie deadpanning "Well, that wasn't what I expected at all" followed by signing off has to be a top-five improv moment in ESPN history. My god. Just tremendous. Hahn's inability to hide his abject horror makes it all the better. If you want to enjoy this clip on a second watch just watch Greenberg's eyebrows.
On rare occasions, live television can outpace any comedy show. This was one of those occasions. It might get Douglas into some trouble but from where I'm sitting it was totally worth it.