Memphis Grizzlies Down Bad, Grasping at Straws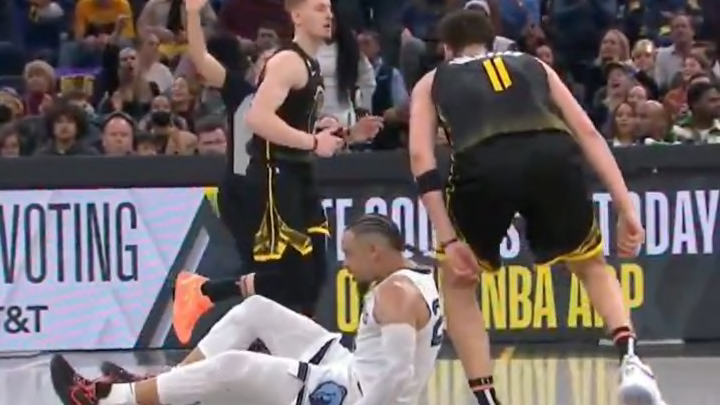 The Memphis Grizzlies are one of the most exciting teams in the NBA. They also hold the distinction of talking the most trash without the requisite résumé to back it up. Christmas Day provided an opportunity for them to make a statement. They wanted the Warriors in Golden State and they got the Warriors in Golden State. It shouldn't have been much a problem, what with Ja Morant not worried about a single team in the Western Conference, Stephen Curry dressing in street clothes and Dillion Brooks embracing the challenge of guarding Klay Thompson, who had the audacity to puff out his chest after a fourth NBA title.
But it was a major problem as the Warriors thumped the team desperate to dethrone them. An extremely chippy game boiled over several different time and Golden State racked up six technical fouls and lost Jordan Poole to ejection. An enduring image will be Thompson standing over a fallen Brooks and taunting late in the fourth quarter. As is his right, even if it added to the enormous pile of techs being amassed at the Chase Center.
Memphis did not make the declarative statement they wanted to make with their play. They are a long way from a dynasty because dynasties require that pesky first championship. In the initial aftermath, it does not appear they will be using this as an opportunity for sober reflection.
Here's Brooks in the postgame, searching for the appropriate people to blame for getting run out of the building.
Come on, man.
Brooks scored 13 points on 4-for-12 shooting, making one of his six three-point attempts and turning the ball over five times. The Grizzlies shot 30 free throws to the Warriors' 26. Thompson, really fired up about making 8 of his 25 shots, was properly penalized for hurting Brooks' feelings.
We're not even to the midway point of this season. Memphis is as talented and as likely to do big things as anyone else. And maybe this is the way they must conduct themselves to get where they want to get. I'm certainly not saying it's wrong or irksome or whatever an old man yelling at a cloud might suggest. It does, however, tend to echo even louder after humiliating defeats. The big, brash chatter tends to age like milk when there's no teeth to back it. To see what Golden State, a team with serious problems and advanced age, was able to do when pushed could be a warning sign of what's to come down the road.
All of this to say that the Grizzlies are fun and exciting and march to their own, prideful drum. We all think there will be years of meaningful success to back it all up down the road. Which will be awesome. If it doesn't, though ... there will be some uncomfortable beds of their own making.