Sara Walsh's Golf Rant Will Make You Never Ask to Play Again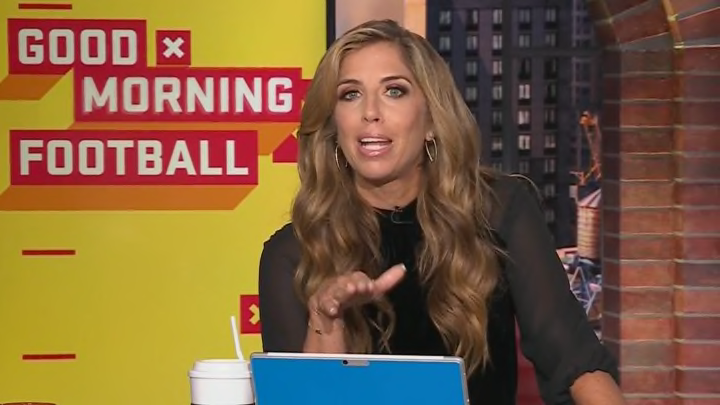 Good Morning Football turned into Bad Morning, Golf earlier today as Sara Walsh launched into a three-minute monologue making an argument against going out on the course and enjoying the sport that will surely cause dudes everywhere to reconsider and cancel all their tee times over the long Fourth of July weekend.
"There's been a lot of talk in the studio this week," she said. "It's the grumbling about seeking permission from the significant other and being given a hard time because you just want to play a simple round of golf with your buddies. But I just want to put this in perspective, the other side of that equation."
Then she, and the gloves, were off.
It's an important conversation and we're glad someone is having it. But it's also a tough watch for anyone in a relationship that has been strained because one party had the audacity to try to go out and do something they love. Especially tough for former Major League Baseball pitcher Matt Buschmann, who is married to Walsh, because that felt quite personal.
Golf takes a long time. There's no way around it. Some would argue that's sort of the point. It's closer to fishing than playing hoops because it's about being outside enjoying nature and then doing something mildly physical every six minutes or so. Best-case scenario is finding a shorter course where you can clock in under this 3.5-hour standard. Which is why God created crummy municipal courses and the first tee time of the day.
Look, it was a solid rant and there's definitely some merit to some of the points. But it also makes me curious about just how much strife is actually created by people playing golf because I rarely get the opportunity to even fight about the planning process. Most couples just sort of trade times in giving each other time to do their hobbies on the front end to mitigate some, yet not all of the issues.
Guess the struggle is much more real than previously appreciated.