Glenn Greenwald Butchered Chad 'Ochocinco' Johnson's Name On His Internet News Program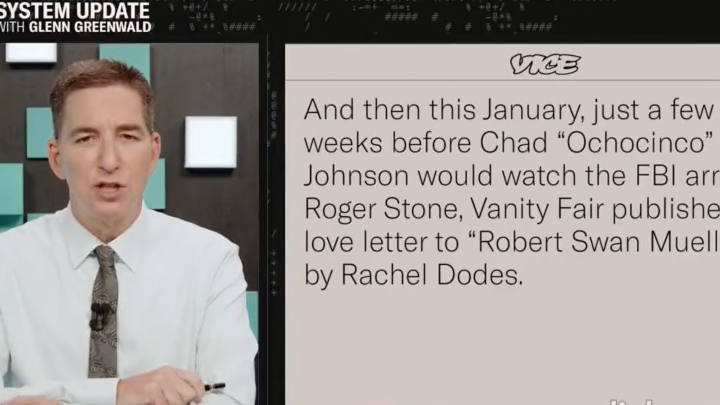 Glenn Greenwald hosts a nightly live news show on Rumble called System Update. During the latest episode Greenwald broke down how liberals are sexualizing the people bringing charges against Donald Trump. Most recently based on the way that CBS News' Norah O'Donnell mentions special counsel Jack Smith's history competing in triathlons. Word can't express how underwhelming this video is, despite the GRAPHIC CONTENT warning. O'Donnell basically just described Smith as having grit and determination like he's a slot receiver for the New England Patriots.
Greenwald goes on to talk about how the same thing happened with Robert Mueller. Again, it's not very interesting, but it does feature Greenwald, who is obviously not a big sports fan, trying to pronounce "Ochocinco" on the fly, having clearly never heard of the former NFL player before.
I won't even attempt to spell Greenwald's wild swing at two Spanish numbers. Chad Johnson himself found the clip quite amusing. You have to wonder how many times he heard something similar when he came upon some unsuspecting person simply looking to verify his information during the late 00's and early 2010's before he changed his name back to Johnson.
At its heart, this clip is simply a reminder that even the most serious journalist sometimes cut corners. If Greenwald doesn't have time to confirm the pronunciation of a famous person, what chance to the rest of us stand?