Borussia Mönchengladbach Fills Stadium With Cardboard Cutouts of Fans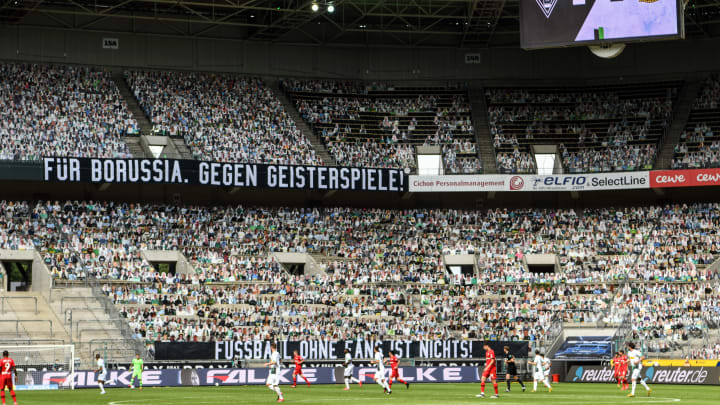 Cardboard cutouts of fans / Pool/Getty Images
A variety of solutions have been put forth to try and fill the void left by no fans being allowed into stadiums if sports are to restart anytime soon. Bundesliga became the first non-KBO league to start back up again a few weeks back, and they started off with completely empty seats and some crowd noise pumped into the broadcast. The KBO put some cardboard cutouts of fans in their seats (filled with corporate advertising), and one South Korean soccer team got in trouble for accidentally putting sex dolls instead of mannequins in their bleachers.
Today, Borussia Mönchengladbach faced off against Bayer 04 Leverkusen in the latest Bundesliga match to be played. Mönchengladbach became the first team in a major professional sport to take the cardboard cutout concept to (nearly) its logical extreme and filled their stadium with 13,000 cardboard cutouts of fans, who could pay 19 Euros to have their likeness in attendance this afternoon.
Borussia Moenchengladbach v Bayer 04 Leverkusen - Bundesliga / Pool/Getty Images
Borussia Moenchengladbach v Bayer 04 Leverkusen - Bundesliga / Pool/Getty Images
Even though this idea of stands being filled with cardboard pictures of actual fans remains singularly bizarre, I like it better than completely empty stadiums. The point of sports coming back, aside from the obvious economic implications, is to provide a brief release from reality, and watching games with nobody in the stands was a good way to yank everyone out of that release. Now, when watching a broadcast, nothing really feels off if you don't think about it too hard.
Add that on top of the fact that the fans' money all went to charity, and this is the obvious solution going forward for other sports leagues. I'm not sure what they'll do about the noise, since cheering played through the broadcast feels a little off, but at least visually it helps give the impression that whatever you're viewing is just a regular sporting event. And that's what leagues are striving for during very abnormal times.