A Fan Threw a Beer at Isaiah Simmons as He Scored Game-Clinching Touchdown For Giants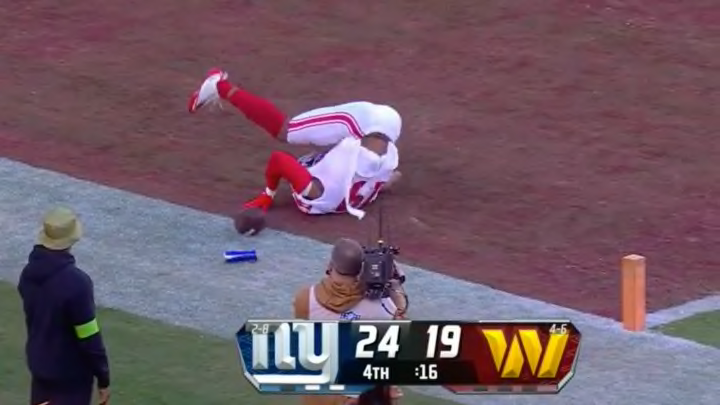 Isaiah Simmons /
The Washington Commanders faithful were treated to an atrocity of a showing by their home team on Sunday at FedEx Field, dropping another divisional contest to the New York Giants, 31-19. Sam Howell threw a cool three interceptions and three different Commanders fumbled for a total of six turnovers on the day. Tommy DeVito, New Jersey sensation, dropped three touchdowns on their head. It was the sort of performance that would result in heads rolling, if the Commanders were a serious franchise. We'll see about that last point.
Fittingly, the game ended in a Howell interception. The Commanders were somehow still in the game in the final moments of the fourth quarter, down by only five points with less than 30 seconds to go. Howell threw a pick to Isaiah Simmons, who took it to the house to officially clinch the win. A keen-eyed observer might've noticed a beer can fly into the camera's view as Simmons somersaulted into the end zone.
Yep. It seems a fan hurled what looks like a Michelob Ultra at Simmons as he finished off the home team. As the tweet caption suggests, initial assumptions were that an angry Commanders fan expressed their frustration by throwing the can. However, a video of the fan in question getting kicked out of FedEx Field points us to a different conclusion.
A celebratory beer toss at an athlete is something we normally only see at championship parades, not a Week 11 win to bring the team's record to 3-8. But Giants fans haven't had much to celebrate this year, so can't really blame them for grabbing onto the slightest glimmer of light.
They still shouldn't throw stuff on the field. But at least it was not an angry beer throw.