Giants Fan Freaks Out as Team Loses in Overtime Thanks to Negative Passing Yards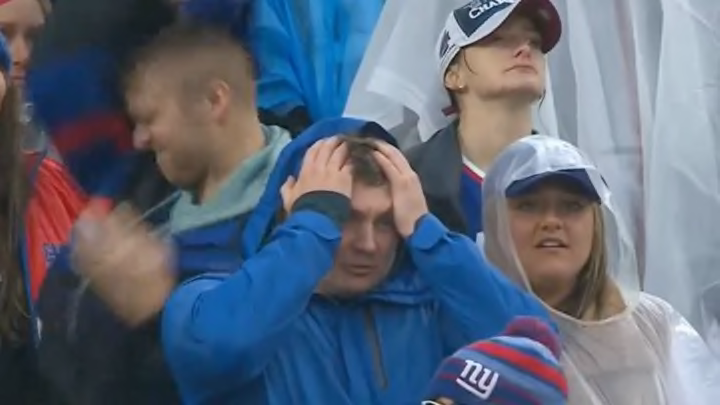 The New York Giants beat the New York Jets, 13-10, at the Meadowlands in Week 8. It was a cold and rainy Sunday afternoon and may go down as one of the ugliest games in NFL history. I mean, it was bad. So bad the Giants finished with negative passing yards and still went to overtime. As it became clear the game was finally, mercifully slipping away in overtime, one Giants fan was caught freaking out, slapping himself in the head repeatedly.
Zach Wilson completed 17-of-36 passes for 240 yards and fumbled twice. Meanwhile, the Giants finished the game with undrafted rookie Tommy DeVito at quarterback. DeVito played the last two-and-a-half quarters of regulation and completed zero of the four passes he threw. So it came as no surprise when the Jets were able to tie the game. Just kidding. Even the social media team was shocked.
In overtime, DeVito completed 2-of-3 passes for -1 yards. DeVito and Taylor were both sacked twice to get the total passing yards under zero.
The two offenses were a combined 4-of-34 on third down. They also punted a combined 24 times to go along with 15 penalties for 158 penalty yards. An absolute abomination. And now the Jets are 4-3.