Chris Paul's Dangerous and Bone-Headed Foul on Giannis Antetokounmpo May Have Cost the Suns Game 5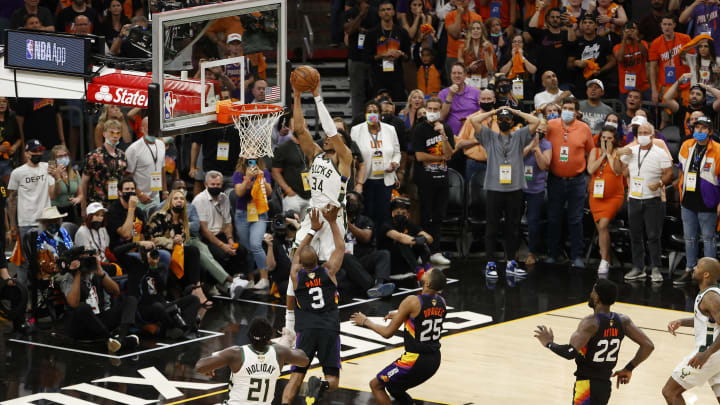 Chris Paul fouls Giannis Antetokounmpo / Christian Petersen/Getty Images
Last night's Game 5 gifted us fans one of the greatest sequences in NBA Finals history. The Phoenix Suns, down by one point with less than 30 seconds remaining, gave the ball to Devin Booker with everything on the line. Booker drove into the paint but got trapped and Jrue Holiday ran in to strip the ball before Booker could get a pass off. Holiday jogs up the court with the shot clock off, but instead of waiting for a foul, threw up an alley-oop to Giannis Antetokounmpo. Giannis emphatically finished the dunk with the and-1 opportunity thanks to Chris Paul's foul.
The real storybook ending would have been Giannis hitting the most important free throw of his life and icing the game. Instead, things unfolded in a spectacular yet almost expected way, as the Bucks superstar bricked said free throw so badly it came right back to him for a rebound. He tipped it out to Khris Middleton, who was immediately fouled and hit one of two free throws to put Milwaukee up four and effectively end the game.
Much is being made about the dunk, because of course there is. It was insane of Holiday to throw that pass, but not only did it work out, it created one of the greatest highlights we've ever seen in the waning moments of a Finals game.
But not enough is being made about the decision CP3 made to foul Giannis on that dunk. To start, it was the worst possible thing he could have done under the circumstances. The Suns were only down one when that pass was thrown. If Paul does absolutely nothing, Giannis dunks it and Phoenix is still within three with a timeout and around 15 seconds remaining.
Instead, not only does he foul Giannis, he pushes him while he's in the air. That's a dangerous foul, and one that could have easily been called a flagrant. Joel Embiid was ready to fight LeBron James when the same thing happened to him during the regular season this year. It's the one foul that everyone agrees is a no-no, even if it's the playoffs and the fouls get significantly harder as the stakes grow higher.
Paul could have done nothing. He could have sold out to try and foul Holiday before he got the pass off, or at least pressure him while he's throwing it up. There are a lot of ways Paul could have gone about defending that play that didn't lead to an and-1 opportunity. Instead, he chose the one path that both screwed his team and could have easily resulted in a serious injury to a two-time MVP and the other team's best player.
It's all made even worse because this is Chris Paul we're talking about. He's one of the most cerebral basketball players to step on an NBA court. His basketball IQ is regularly mentioned as one of his best attributes to go along with his mid-range jumper and feisty defense. But in the biggest moment of his 16-year career to date, he imploded and cost his team their best chance to win Game 5.
Sure, Paul isn't single-handedly responsible for Booker getting stripped or for failing to secure the rebound after Giannis bricked his free throw following the foul. Blame can be shared for the end result. But Chris Paul isn't supposed to make that kind of mistake, especially not when it's a dangerous foul to make. He shouldn't get a pass. He blew it, and now the Suns are one game away from falling short on basketball's biggest stage.