George Kittle Breaks Out Seatbelt Celebration After Breaking Up a Brock Purdy Pass to the Giants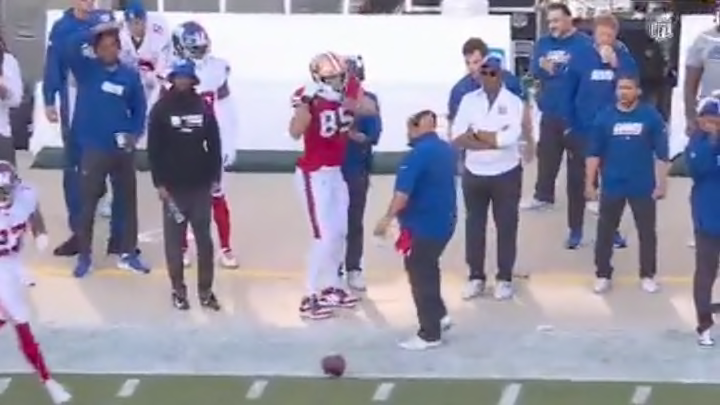 The San Francisco 49ers hosted the New York Giants on Thursday Night Football to kick off Week 3 of the 2023 NFL season. The 49ers were heavy favorites, but the Giants kept it close in the first quarter, thanks in part to a few decisions by Brock Purdy. Like this one where he appeared to throw right at a wide open defensive back.
Adoree' Jackson almost had the easiest pick of his career, but George Kittle, who Purdy was hopefully trying to sail the ball to on the play, was there in time to break it up. Kittle knocked the ball away just in time. As Jackson hopped up and down, unable to believe he didn't catch the ball, Kittle ran onto the Giants sideline where he proceeded to break out the seatbelt celebration that defensive backs have been known to do after locking someone up.
This has to be the first time an offensive player has done a celebration after breaking up a pass meant for himself. And that's what makes George Kittle special. He's got skills on both sides of the ball, even if he only ever plays one of those sides.