George Kittle Just Made An Absolutely Ridiculous Catch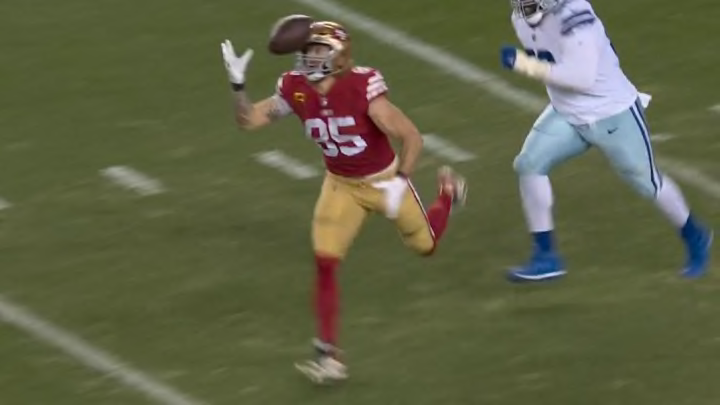 The San Francisco 49ers and Dallas Cowboys are in the middle of a grind-it-out Divisional Round playoff game that needs a jolt of life. Niners tight end George Kittle just did his best to do that.
With quarterback Brock Purdy and the offense struggling to get anything going, San Francisco faced a second and 10 from its own 21-yard line. Purdy rolled out and had Kittle open over the middle, he unleashed a pass towards his man and then things got wild.
The ball was a little out of Kittle's reach, so he stretched his massive paw out and tried to make a one-handed grab. It didn't work and the ball bounced off his facemask, then back out in front of him, and he collected it just before Cowboys cornerback Trevon Diggs would have snagged it.
Check this out:
I feel the need to point out that no one in the NFL ever catches these types of bobbles. He's going full speed and trying to keep up and bring it in. Roughly 99 percent of these plays wind up with the player face down on the turf with his hands on his helmet. Instead, Kittle turned it into a 30-yard game to spark the 49ers' offense. It was an enormous play, as the drive culminated in the game's first touchdown.
Kittle was happy about it.
The teams finished the third quarter tied 9-9, but the 49ers scored on the first play of the 4th quarter.