Fox News Is Bringing Drones to the First GOP Presidential Debate
Drones and debate. They just go together.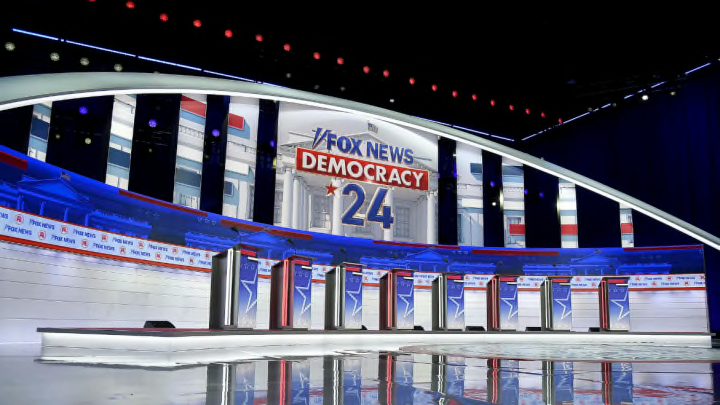 The first Republican Presidential Debate is tonight in Milwaukee. Donald Trump will famously not be there, choosing instead to tape a pre-recorded interview with Tucker Carlson as alternate programming. But that doesn't mean the network isn't pulling out all the stops to give this event all the gravitas it deserves.
On America's Newsroom, Bill Hemmer and Dana Perino provided a sneak peek at one of the shiniest of the bells and whistles: a drone.
The drone flew around with impressive precision as it entered Fiserv Forum, breezing through security, going up the stairs and greeting debate hosts Bret Baier and Martha MacCallum.
All told there will be 310 people and 500 screens on-site for the event, and tons of fiberoptic cables plus other fancy stuff.
"I don't want to compare this to the Super Bowl, but you can compare it to the scale of the effort we put into large scale sporting events," said senior vice president of field and production operations, Scott Wilder in a lengthy interview with TV Tech. "This is the first debate. It is an event that is really important to the entire country. People are talking about it and will be talking about it. We want to highlight the discussion in general with our coverage of the debate and use the worlds of technology and creativity to tell that story and show people what's happening in the arena and around Milwaukee."
If you're curious how drones fit into a bunch of people talking at podiums, you're not alone. But hey, that's all part of the intrigue and a carrot to tune in with hopes of finding out.