Fox News Enters Second Day of Wall-to-Wall All-American Christmas Tree Fire Coverage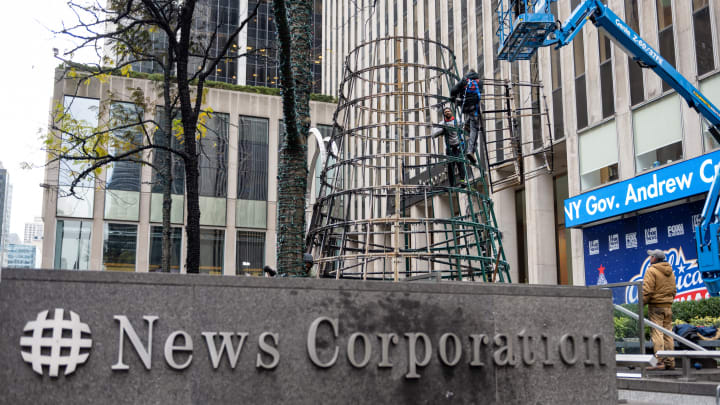 New York City Celebrates Holiday Season / Alexi Rosenfeld/GettyImages
FOX News had a very, very emotional day on Wednesday after someone burned down their Christmas tree. The man suspected of lighting the fire was arrested and charged with multiple crimes before being released. His motives are unclear, but Fox News' on-air personalities took turns suggesting it was an attack on America, Fox News, Christianity and even Hanukkah.
Things started early in the morning on Fox and Friends as Ainsley Earhardt explained how important the tree was. She had a bit of a Bluto Blutarsky moment as she threw Hanukkah in there, but nobody stopped her because she was rolling.
Earhardt then assured viewers that it would be alright. Fox would "build it back better." Build back better almost became a rallying cry for Fox News as they vowed not to let the arsonist ruin Christmas. And if you're wondering why they kept saying "build" instead of "run to the giant Christmas tree lot for a new tree," it's because their "tree" was not an actual tree. It was a red, white and blue structure shaped like a Christmas tree.
With their tree gone, Fox & Friends ran a montage of actual Christmas trees.
Things only got more intense as the day went on. Harris Faulkner spoke about the incident the same way someone would talk about a seaside community that had been hit by a hurricane.
Lawrence Jones was the first person on the channel to admit that the arsonist was probably not targeting Fox News. A New York Post article yesterday said that the arsonist, Craig Tamanaha, is also accused of exposing himself to people outside the Ghislaine Maxwell trial last week. According to the man's father, "he likely lit the tree on fire because he's looking for 'attention' and wants 'get onto the news.'" If that's true, boy did it work. Oh, and he may have also tried to set the actually famous Rockefeller Plaza tree on fire before settling for the All-American tree.
As usual, things got ratcheted up a few notches after dark as Tucker Carlson suggested the burning of the tree-like structure was a hate crime against Christianity.
Janine Pirro then appeared on Sean Hannity's show to discuss the tragedy, but things got sidetracked when she called him Geraldo.
Things picked right back up this morning as Brian Kilmeade ran with the "hate crime" idea and the Fox & Friends hosts blamed Democrats for allowing the arsonist out on bail. Security around the tree site has apparently been doubled in case he comes back.
The "tree" will be reconstructed today - at great cost - and lit again during The Five. It should be an incredibly powerful and cathartic moment for everyone.