Flyers Social Media Team Caught Complaining About Reporter on Hot Mic During Garnet Hathaway Call
"How many times is she going to ask this [effing] question?"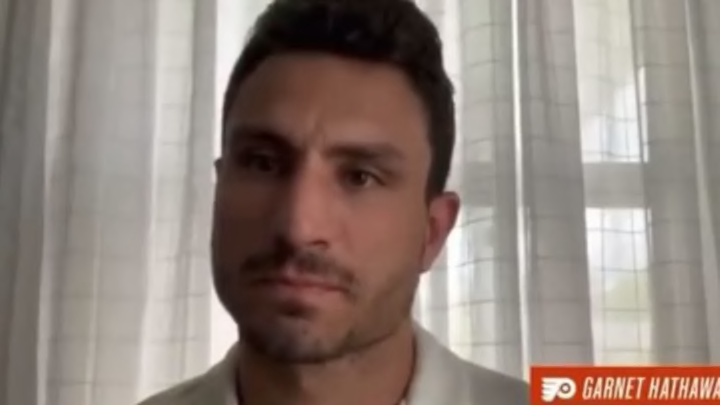 Garnet Hathaway recently signed a two-year, $4.75 million contract with the Philadelphia Flyers after making trips to the Stanley Cup Playoffs the five years as a member of the Boston Bruins, Washington Capitals and Calgary Flames. He now joins a franchise that hasn't seen the postseason since 2020. With that in mind during his introductory media call, the Philadelphia Inquirer's Giana Han asked Hathaway what made the Flyers an attractive free agency destination this summer. A hot mic then picked up audio of social media staff complaining about the question and the franchise.
One voice loudly says, "How many times is she going to ask this f---king question," and that's followed by another person mockingly saying, "The Flyers suck, why do you want to be here?" Video of this was posted on the team's official Twitter account and then deleted, but obviously, someone was able to capture the embarassing part. It was also noted on Twitter by Mollie Walker of the New York Post.
The team then had to issue a statement on Twitter saying they apologized for the "disrespectful remarks."
Meanwhile, Han went about doing her job and ignored the incident in public view, instead choosing to tweet about what Hathaway had to say during the interview.
Overall, it was a case study in if you don't have anything nice to say, don't say anything at all.