Florida Fan Ejected After Grabbing Kentucky's Cason Wallace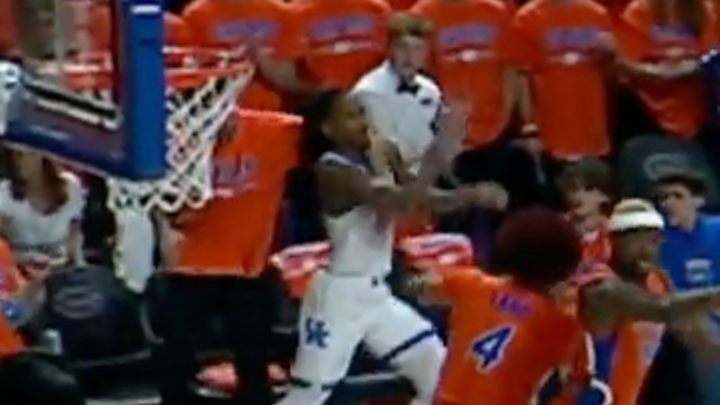 Kentucky got a much-needed road win last night against Florida, and they had to earn every bit of it. Not only were the Gators players standing in their way, some of the assembled crowd did their best job of playing defense. Consider this incident in the second half when Cason Wallace chased a loose ball and ended up in the front row. As the freshman guard tried to get back and defend, he got delayed via arm bar from a fan seated in the front row.
The fan was ultimately ejected for his actions and became the No. 1 villain online. For instance, Barstool Sports cataloged the incident this way: This Trash Florida Fan Who Tried To Put Cason Wallace In A Chokehold Is The Ultimate Dickhead And My New Personal Enemy. Which seems a tad extreme.
Obviously, paying customers putting their hands on players is not something anyone wants. It's a recipe for disaster and far too often a sense of entitlement pushes things over the line and into a comfortable place. But allow me to gently suggest that this particularl one may not be the crime of the century as is being suggested.
If it was, in fact, intentional then it's totally unacceptable. Yet I feel like we need to at least allow that it wasn't. We're so quick to Monday Morning Quarterback everyone, including someone who was watching a basketball game one second and thrust into the national spotlight in the next. We all want to think we wouldn't get tangled up and become the main character. We all think we wouldn't put ourselves in danger of doing that. Yet there are a lot of people who might have stuck their arm out at the wrong time.
Again, this is not a full-throated defense. I'm just saying in order for this to be intentional, the fan would have had to think it up on the spot. Because no one is prepared for this.
Anyway, fully prepared for this to age poorly and be on the wrong side of history. Will pour over the footage for a few hours and adjust the take if needed.