Five Truly Weird Things From the LIV Golf Press Conference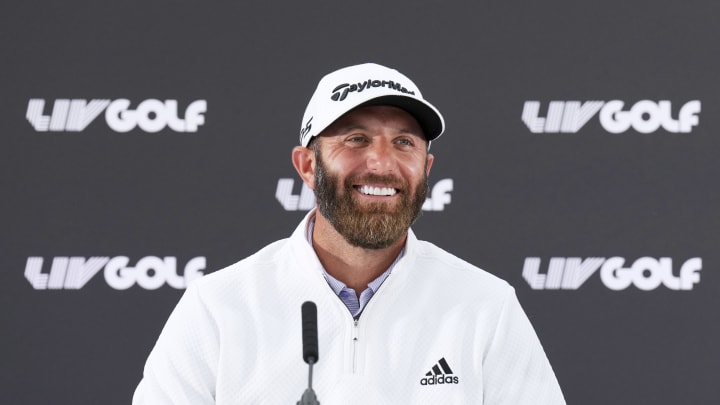 LIV Golf Invitational - London - Preview Day Two / Aitor Alcalde/LIV Golf/GettyImages
LIV Golf held some press conferences this morning as the new golf league made its presence known to the world and it went about as well as you could have expected.
Ari Fleischer
Former Fox News correspondent and George W. Bush's press secretary Ari Fleischer was the emcee for the event.
AP Reporter Spoken to By Security
Players walked on eggshells discussing Saudi Arabia's human rights record.
Things got testy at one point when Rob Harris of the Associated Press was cut off by a LIV spokesman and escorted out by security after an argument. Harris was allowed back in a few minutes later, which coincided with a tweet saying, "questions on Saudi Arabia and rights issues have been allowed to be posed to the golfers. And no media barred for doing so."
Team Captain Wade Ormsby
While LIV Golf boasts some big names like Dustin Johnson, Phil Mickelson and Sergio Garcia, things drop off pretty quickly as Australian Wade Ormsby was also named one of the eight team captains. Ormsby, 42, is currently ranked 125th on the DP World Tour and has won the Hong Kong Open twice, including most recently in January 2020. His best major performance was a 40th-place tie at the 2021 US Open.
LIV Team Names and Logos
The first eight team names were announced and their corresponding logos were presented. They are as creative as any local golf league fancy enough to splurge for matching shirts.
Dustin Johnson Resigns From PGA Tour
One thing that is not known is what consequences players will face for leaving the PGA Tour. Will they be welcomed at future majors? The Ryder Cup?
Consequences be damned. You Only LIV Once.