Five Oldest Rivalries in College Football History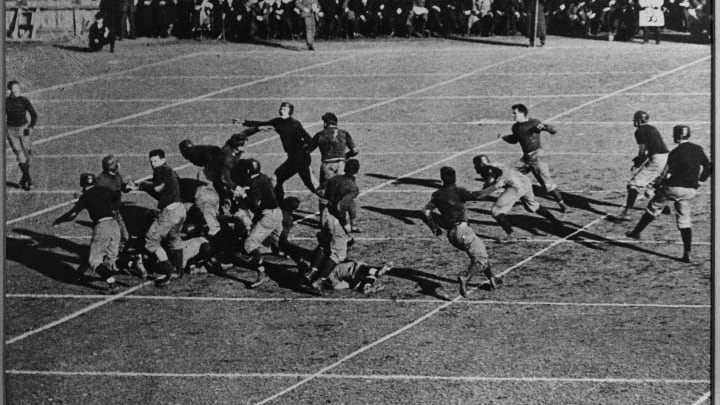 First Harvard-Yale Football Game / Oscar White/GettyImages
College football is all about tradition so who doesn't love a longtime rivalry? Here are the five longest-running rivalries in college football history. Spoiler alert: They all come form the Ivy League where schools have been battling each other for nearly 150 years.
Find all college football tickets at our trusted ticket partner TicketSmarter.com today.
Yale - Princeton
Princeton took the first game of the series, 3-0, back in 1873. They also won the most recent game in 2021. Overall, Yale leads the series 78-55-10. In addition to being the oldest football rivalry and just one of the oldest continuous sports things in the history of America, these schools also get the credit for introducing sickos everywhere to football on Thanksgiving in 1876. So when you're watching the Detroit Lions make Dan Campbell cry while you eat turkey in a few months, you can thank Yale and Princeton.
Yale - Harvard
Now known simply as "The Game," the Bulldogs and Crimson have faced off since 1875. So yeah, Yale basically invented rivalries, which is why it should be no surprise that they lead this series 68-61-8. The game is sometimes interrupted by MIT students hacking the stadium like they did in 1982 when a black balloon suddenly appeared at midfield.
More Articles About College Football:
Princeton - Penn
This series began in 1876 with the Tigers capturing a thrilling 6-0 victory over the Quakers. Princeton actually won the first 28 games in this matchup, which included a devastating stretch of shutouts in 10 of 12 games, including a 95-0 beating in 1887. The fact that they only lead the overall series 68-43-1 is kind of impressive all things considered. Penn actually won 17 out of 20 games between 1993 and 2012, but Princeton has won six of the last eight games.
Princeton - Harvard
Harvard won the initial meeting, 1-0, in 1877 in case you needed a reminder that they were barely playing the same sport when these rivalries began. Of course, the official result of their latest game in 2021 was 18-16 in five overtimes so whose to say, really? Princeton leads the all-time series, 58-48-7.
Yale - Brown
The Brown Bears have one of the best name / mascot combinations in all of sports. What they don't have is great luck against Yale. The first game of the series was the only one on Brown's schedule in 1880. They lost 8-0 and things haven't gotten much better since then. Yale leads the series 84-25-4, including a 59-35 win in 2021.