FIBA Ref's Bad Aim Causes Basketball's First Five Pass Free Throw Attempt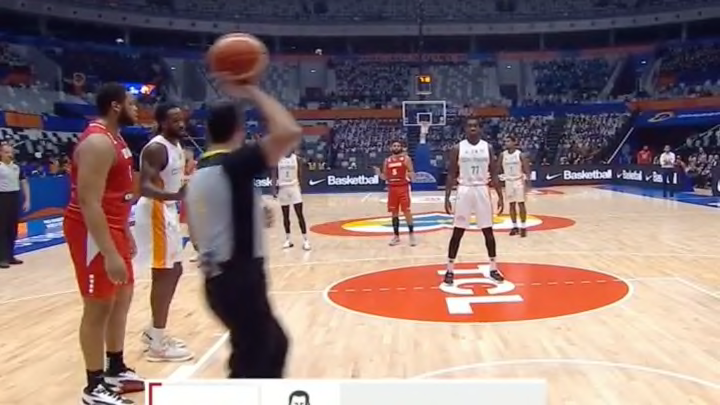 Lebanon beat Ivory Coast, 94-84, in the FIBA World Cup on Thursday. During the first quarter Jean-Philippe Dally went to the line for some free throws. Teammates and opponents lined up along the lane as is tradition and everything seemed normal, but then the referee threw a curveball. Or, more accurately, a bounce pass... No. Wait. Actually it wasn't accurate because he threw it to the wrong player.
As the official backpeddled he threw the ball to Lebanon guard Karim Zeinoun instead of Dally, the free throw shooter. Zeinoun was very confused and then threw a soft bounce pass to Dally who then tossed it to another referee who hit the original referee with a bounce pass as he cut back towards the basket. And then he threw the ball to the person who was actually supposed to have it.
By the time the free throw was actually attempted, five passes had been thrown. Coaches should show this video to players to prove that ball movement leads to open shots. Just about everyone on the court touched the ball, including players from both teams and multiple officials. Which is why most of the players line up along the lane look so damn confused.
Of course, both teams shot so well from the free throw line in this game, that this obviously worked. Ivory Coast made 15-of-17 free throws while Lebanon connected on 20-of-25. With crisp ball movement like that before each attempt, it's no wonder why.