FCC Rules Should Not Apply to Overtime Playoff Hockey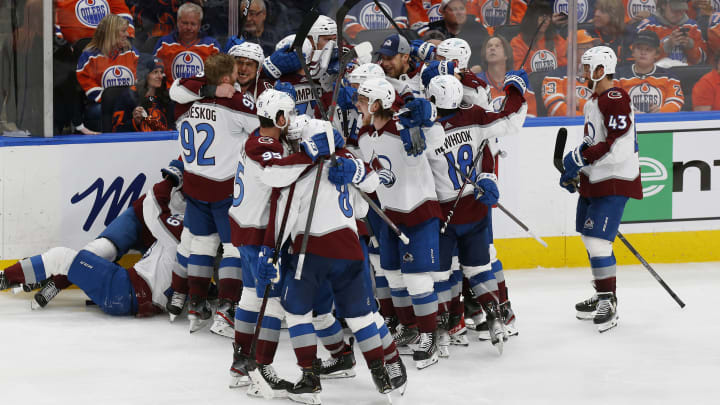 Colorado Avalanche v Edmonton Oilers - Game Four / Codie McLachlan/GettyImages
Before we really get going here, I'd like to remind you of an evergreen tweet from the brilliant Jon Bois that will always describe overtime playoff hockey better than anything anyone else could ever come up with.
Those who watched last night's Edmonton Oilers-Colorado Avalanche game feel this deeply. The fourth game of the Western Conference Finals featured several wild comebacks. The Oilers were up 4-2 in the third before the Avalanche scored three straight. Then Edmonton tied it up to send it to overtime-- which gave us overtime playoff hockey, a do-or-die extra period for the Oilers, desperately trying to keep their season alive.
They failed in that endeavor as the Avalanche scored the game-winner after less than 90 seconds to secure their spot in the Stanley Cup Finals. Or so it seemed! The referees had to go to the replay booth to ensure there wasn't a high-stick penalty that led to the goal as Artturi Lehkonen batted it out of the air and into the net. TNT, wrapping up its first season as a primary NHL rightsholder, called on rules expert Don Koharski to give his opinion on whether the goal would stand (which it ultimately did).
Koharski gave solid analysis before accidentally saying what everybody else was thinking: "Holy shit."
Thus we reach the thesis of this post: overtime playoff hockey should be exempt from any standard television rules. It's an adrenaline injection dressed up as a viewing experience. It is like OT playoff football, where a single play could end your season, but instead of the plays being spread out over minutes at a time, everything is happening so quickly you are afforded zero deep breaths to absorb it all.
Koharski should therefore be praised rather than penalized for his slip of the tongue. In a high-pressure moment, he spoke from the heart. That should always be applauded, even if it comes out a bit blue.