Mack Hollins Not Pleased With Desmond Ridder on Falcons Sideline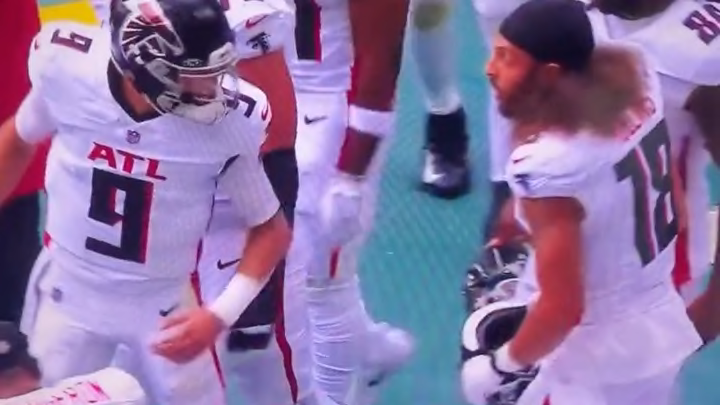 Mack Hollins and Desmond Ridder /
The Atlanta Falcons took on the Jacksonville Jaguars on Sunday morning in London and Desmond Ridder did not have a good time in the first half. While the Falcons' defense was able to make life difficult for Trevor Lawrence and Co., Atlanta's offense was utterly inept thanks to Ridder's inability to move the ball down the field in the air. Then he made two brutal back-to-back mistakes that put his team in a real hole.
Down 10-0 in the second quarter, the Falcons managed to string together a few quality gains as Ridder appeared to get into a rhythm, which allowed the run game to get going. Then Ridder threw a pick-six, and it was a pretty bad one. Not the worst we've seen so far this year, but Ridder did not exactly make it difficult for Darious Williams to nab the ball and take off.
On the opening play of the following drive, Ridder threw another pick. He wasted literally no time. It was not much better than the first.
The Jaguars turned the ball over on downs after that, so Ridder didn't cost his team more points. He was, however, unable to capitalize on the defense's play and went three-and-out after the turnover. On the sideline afterwards, Ridder attempted to give wide receiver Mack Hollins a high-five of some sort. Hollins didn't want anything to do with it and instead rocketed up to yell at Ridder.
Hard to blame Hollins. At the time Ridder was 9-of-14 for 73 yards and two interceptions. There are few things more frustrating for a receiver than incompetent quarterback play.
However, it did seem to give Ridder a bit of a boost. The Falcons received the ball after halftime and he threw a 15-yard touchdown pass to Drake London. Progress!