Arthur Smith Was in Shock on the Sideline After Horrific Desmond Ridder Interception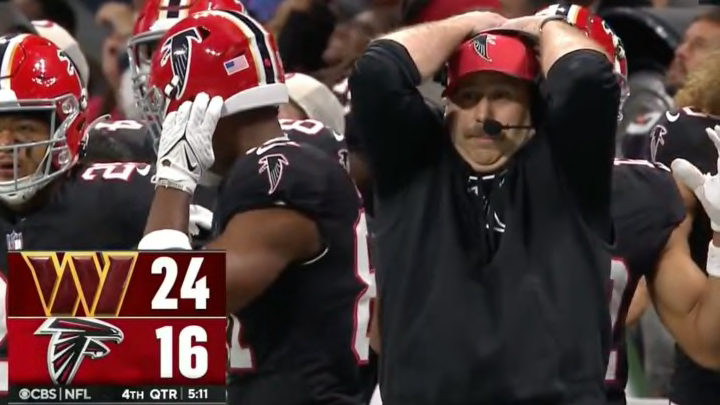 Arthur Smith /
The Atlanta Falcons muddled their way through another game on Sunday, this time hosting the Washington Commanders. The contest remained fairly close into the fourth quarter and the Falcons found themselves with the ball on the Commanders' goal line while down by eight points. There were fewer than six minutes left in the fourth quarter. It was crunch time for Atlanta-- and Desmond Ridder absolutely blew it.
On third-and-goal, Ridder lined up in the shotgun on the two-yard line. He didn't get the snap off and Atlanta got handed a delay of game penalty. Pretty inexcusable, but what happened next was worse. Now third-and-goal from the seven-yard line, Ridder dropped back (after nearly letting the play clock run out again) and just... flung it into the end zone. The thought process was not only bizarre, it might've been nonexistent. Just a terrible, terrible decision that robbed the Falcons of any opportunity to get some points with the game on the line.
Falcons head coach Arthur Smith could not believe his eyes on the sideline and gave the CBS audience what might be the reaction of the year from a coach.
Hilarious. Unless you're a Falcons fan. Smith continued to suffer as the Commanders went on the offensive.
Smith is not exactly blameless in this situation given he had Ridder in the shotgun on third-and-goal in the first place, leading to the delay of game. But it also was not Ridder's first mind-numbing throw of the game. Smith's face is probably justified.