Everyone is Saying the Dallas Cowboys Nailed Their First Round Pick, Just Ask Them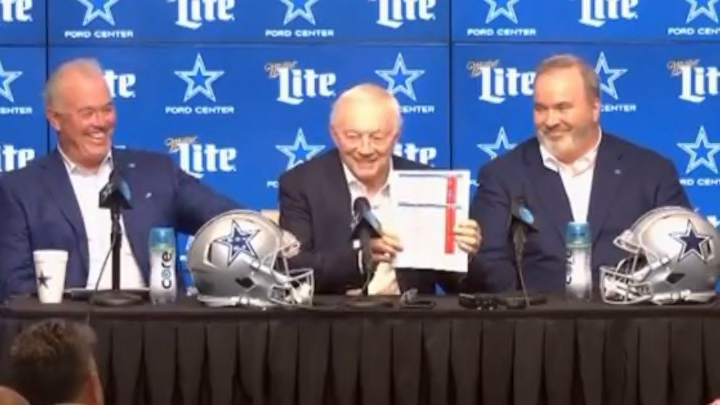 With the 24th pick in the 2022 NFL Draft, the Dallas Cowboys selected Tyler Smith, an offensive lineman from Tulsa. Some people thought that pick was a reach, but there are people out there who want you to know that Smith was actually the perfect pick and just who the Cowboys should have taken. First, an anonymous general manager "effusively praised" the pick to Dallas-based ESPN reporter Ed Werder.
This anonymous GM was not the only person to think the Cowboys nailed the pick. A little while later Stephen Jones told Jane Slater that the Cowboys had entertained the thought of trading the pick. When they didn't and instead picked Smith, the other team told Jones that they were actually going to take him. Who know NFL front offices were so chummy!
If those two annecdotes didn't convince you, Jerry Jones really hammered home how happy the Cowboys were with the pick at a press conference on Friday morning. Jones brought a copy of the Cowboys' draft board to show reporters to prove that Smith was the guy they had targeted all along. In fact, they had him above Kenyon Green and Zion Johnson, the two offensive lineman that Sports Illustrated had ranked right ahead of Smith in a recent article.
This led to the hilarious moment where Stephen Jones had to tell his father to put down the draft board before people could see what other secrets to success it might hold. See how much fun they're having? Other teams should be so lucky. Or at least willing to tell the press how lucky.