Every Guns N' Roses Music Video Ranked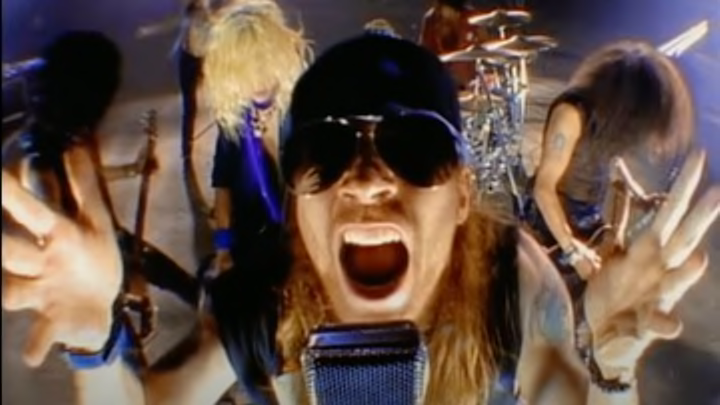 Guns N' Roses is responsible for some of the greatest songs and music videos of all time. Overall, there are 17 songs that got "official" videos. Some of them had multiple versions. Some of them were not that great. After some serious consideration, we have ranked all 17 videos from worst to first.
17. Chinese Democracy
Chinese Democracy - This is not an indictment of either the Chinese Democracy album or the titular song. Both are better than you would assume, but neither are really Guns N' Roses. So seeing this version of Axl running around with this high-profile cover band as some sort of "official video" just feels icky. I refuse to even embed it.
16. Bad Apples
If you don't remember this video, that's OK. It's just blurred footage from the Don't Cry video shoot. It seems like this video was released in 2009, nearly three decades after it was recorded, but it's unclear why. Probably to promote a greatest hits something.
15. Since I Don't Have You
A doo-wop cover off The Spaghetti Incident. The guys hang out with an extremely half-ass version of the Devil or at least some kind of demonic personality as they share tender moments with models on a beach. Meanwhile, the devil is trying to kill Axl. Slash sits in a boat and only deigns us with an epic solo shot for approximately three seconds.
14. The Garden
Axl doesn't even show up until more than three minutes into the video and all he does is get off the subway. Slash literally doesn't even get out of bed. The theme of the video is "New York City is a shit hole, but there are naked women there." They basically ripped off the opening of the original Teenage Mutant Ninja Turtles motion picture and added strippers.
13. You Could Be Mine
You like synergy? Well, Arnold Schwarzenegger has been sent back through time to kill the members of Guns N' Roses to help promote T2: Judgement Day. The video features clips from the movie as well as a live performance with the Terminator trying to get to the front of the pit, but by the time he gets there the band has apparently finished their performance. Luckily, he just meets them as they exit the venue where he decides the band is a "waste of ammo." Seems like a poor use of a Terminator, but what do I know?
12. Patience
A kinder, gentler version of Guns N' Roses appeared on Lies (let's not talk about One in a Million here). This video recreates the idyllic recording session where the Patience track was originally laid down. There are zero frills except for the few brief clips of the band in a hotel where Axl destroys a light-up telephone. *sways back and forth*
11. Yesterdays
This is the video that had the unenviable task of following November Rain. Directed by Andy Morahan, who did six of the Use Your Illusion videos, it was shot entirely in black and white and inside an abandoned airport hanger. Throw in some pictures of the band when they were younger and you got yourself a stew.
10. Sweet Child O' Mine
The official music video was all black and white except for one random shot of Axl near the end. Just the band in an empty warehouse which is apparently where they spent a lot of time in the early 90s. There's nothing to it, besides it being one of the greatest songs ever, even if you have heard it so many times by now that you never need to again. An alternate version features color and video of the original version of the video being filmed. Yeah, Guns N' Roses invented meta.
9. It's So Easy
A music video that features so many butts, I can't legally show it to you here on this family-friendly website. Axl claims that the video cost $150,000 in the actual video. Most of that must have gone to hairspray and leather. My god, the leather. It is so much goddamn leather and Slash in a t-shirt that simply says, "BLOW ME." Holy shit, what a rock song.
8. Dead Horse
GnR's country song got a classic live performance video and what may be our only known footage of Axl playing a guitar. Make no mistake, this isn't the band playing in an airport hanger. This is everyone in the band running around on stage, going crazy, rocking out. Manic energy. Guns N' Fuckin' Roses.
7. Garden of Eden
They're back in the damn airport hanger! But this time the band performs the song in one take in front of one camera and everything is sped up. Well, technically they shot the video at least twice since there's a version "with paper." They were willing to try anything! Of course, minimalism worked in this video.
6. Live and Let Die
This Wings cover is another classic live performance video with more pictures of the band growing up. What sets this video apart is the incredible diversity of Axl's wardrobe. You get the classic kilt, many different hats, mesh tops, long johns and most importantly, he also wears a catcher's chest protector which had never been attempted previously or since. I mean, even Mike Piazza had a band and never attempted such a bold fit.
5. Don't Cry
This is clearly the first time that Andy Morahan got to spread his wings with Guns N' Roses because this video is artsy as fuck. There's a naked baby. Axl in Revolutionary War-era booty shorts. Axl drowning. Axl in a mental ward meeting other Axls. Axl in therapy. Stephanie Seymour. And Shannon Hoon performing with the band on top of LA's Transamerica Building with helicopters involved. Why there's a second version of this song without Hoon remains a mystery, but the "Where's Izzy?" sign signaled the beginning of the end for the band. Stradlin co-wrote the song and refused to appear in the music video which he later deemed "a pointless indulgence." Little did he know that's what makes the best GNR videos. And our first look at Slash playing a solo in a totally epic location after he Fast N' Furiouses a car off a cliff.
4. Paradise City
Appetite for Destruction was released in July 1987. By the time the fourth single from the album, Paradise City, was released 18 months later GNR was the biggest band in the world and the video reflected that. This is a classic band on the road video. There's nothing truly notable about it, except for Axl wearing a Nazi officer cap and a backstage pass that featured an SS eagle, which was probably even a bit problematic in 1990. Moving quickly past that, Axl is completely done with teasing his hair, which is good.
3. Welcome to the Jungle
What an introduction. MTV had to have their arm twisted to play this video once at 5 a.m. and it still immediately blew up. It starts with an innocent Axl Rose getting off the bus as one of the most distinct intros to a song of all-time begins. Moments later you facing an overload of hair and metal (just don't call it hair metal). The video is pure power and chaos and the world, much like that fresh faced Axl Rose at the start of the video, would never be the same.
2. November Rain
We've all seen the guy jump through the cake because it started to percipitate at a wedding reception. There's not much more you need to see to know how great this video is. But over nine minutes they do so much more. The scene at the Rainbow Room may have been the last time the group acted happy together for the next two-plus decades.
And the only thing that comes close to the guy jumping into the cake is clearly Slash eschewing tradition by leaving the church first to perform his solo, outside the church the band flew in to New Mexico. And like any good Andy Morahan GNR video, it was all captured with a camera on a helicopter. Drones could never.
1. Estranged
This video has it all. Every element from every GNR song and video is jam-packed into the Estranged You've got live footage, Axl being paranoid, Axl in the Charles Manson shirt, and most importantly Slash doing his guitar solo in a mega-epic location. This video is part of a trilogy with November Rain and Don't Cry, but it's got something neither of those videos have: on-screen dictionary definitions and a dolphin wearing flannel.
Estranged never came close to the success of November Rain, which has always bugged me. Even today, November Rain has nearly two billion views on YouTube while Estranged sits at just a quarter of a billion. Like you don't have 10 minutes to spare for the video that may have started the hoax where marine life is in the streets
The scene at The Rainbow may be the last time the band was ever largely together and looking happy. Perhaps because they knew Slash was about to do a solo on the Sunset Strip and Axl was headed out to jump off the side of an ocean liner. Luckily, the dolphins saved Axl and Slash ermerged from the middle of the ocean like some heavy metal Aquaman for one final solo to put a bow on the song and basically Guns N' Roses time as the greatest band in the world.
The next line in the song after Slash's solo is "I'll never find anyone to replace you" and it was true. We would never get real GNR music again, but at least we'll always have the dolphins.