Evander Kane Blew a Kiss to a Fan Who Was Giving Him the Finger During a Fight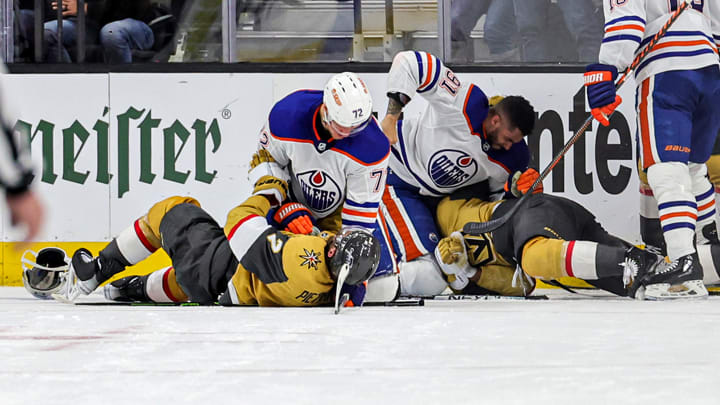 Edmonton Oilers v Vegas Golden Knights - Game Two / Ethan Miller/GettyImages
The Edmonton Oilers beat the Vegas Golden Knights, 5-1, on Saturday to tie their second round series, 1-1. As you can see by the score, the game was not close, which in hockey generally means there's going to be some frustration that ends up causing physical confrontations. In this case there were a few skirmishes in the second period, including one where Evander Kane got involved with Keegan Kolesar.
As the broadcast found them, Kane was on top of Kolesar, punching him in the body while one of the officials appeared to watch and take notes nearby. As they got up Kane then put Kolesar in headlock. By the time they were ready to square up and throw some real punches they were separated.
As you can see in this picture, one Golden Knights fan took the opportunity to give Kane the finger[s].
Edmonton Oilers v Vegas Golden Knights - Game Two / Ethan Miller/GettyImages
Is there a better picture? Yes. Yes there is.
From another angle you see Kane smiling as he and Kolesar were pulled apart. Then he sees the fan and blows her a kiss.
Excellent hockey villain stuff from Kane. Vegas fans must hate him right now.