ESPN Soccer Analyst Shaka Hislop 'Looking OK' After Scary On-Air Collapse
Scary situation seems to be looking up.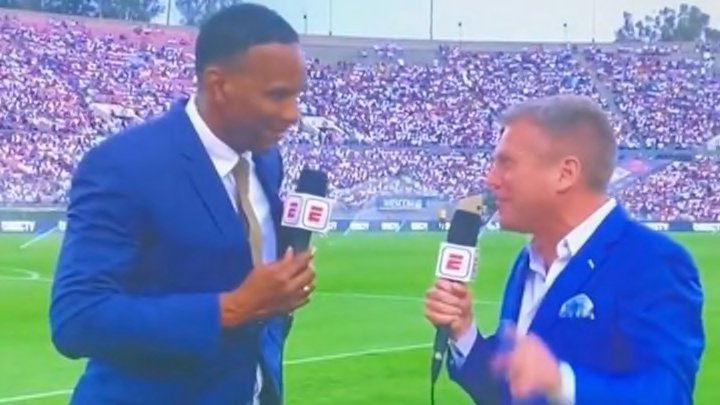 ESPN soccer analyst Shaka Hislop is recovering after collapsing while on-air during a Sunday night broadcast of AC Milan's friendly against Real Madrid at the Rose Bowl. The former goalkeeper, who had a long run in the Premier League, was setting up the action from the touchline with his co-host Dan Thomas when he began to stumble and eventually collapsed. Thomas immediately called for medical attention as the broadcast went to commercial.
It was a scary scene but Thomas returned a bit later to give a very positive update on the situation.
"My mate, Shaka, not here, but as it stands, it's good news," Thomas said. "He's conscious, he's talking, I think he's a little embarrassed about it all. He's apologized profusely. Not a man who likes people to make a fuss of him. Obviously far too early to make any sort of diagnosis, but the important thing is, that Shaka's conscious and we spoke to his family as well, because you imagine seeing that happen live. We spoke to his wife and things are looking OK."
The match was played in extraordinarily uncomfortable heat, something that's become alarmingly ordinary recently and can present dangers for even the most fit people baking under it. Hopefully Hislop is back on the sidelines sooner rather than later.