ESPN Settled Former Makeup Artist's Claim that Chris Berman Sexually Harassed Her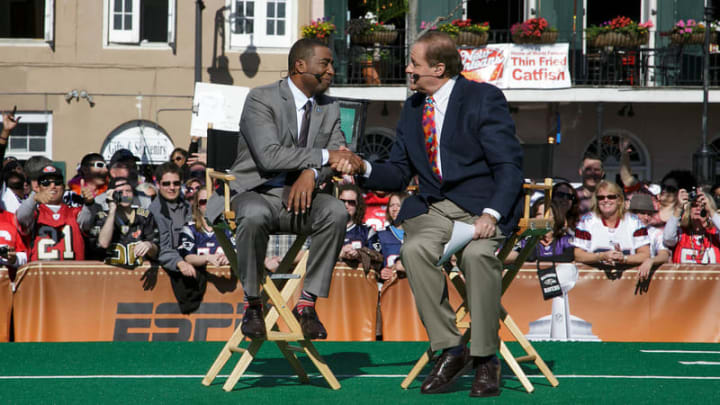 A former ESPN makeup artist recently settled a sexual harassment claim against ESPN, and the focus of her claim was NFL host Chris Berman, multiple people tell The Big Lead.
The former ESPN makeup artist, Sue Baumann, was represented by the office of high profile lawyer Gloria Allred. A person familiar with the matter told The Big Lead that there were allegations against Berman – including comments he allegedly made in the makeup room and text messages going back a few years – and ESPN decided to settle. The person spoke on the condition of anonymity because of the sensitive nature of the claims.
In a statement to The Big Lead, ESPN spokesman Josh Krulewitz said: "Our thorough investigation revealed the harassment claims had no merit. We settled it solely to save a considerable amount of time and litigation costs."
Allred replied to an email query with "no comment." Berman's agent, Lou Oppenheim, didn't reply to phone calls or emails.
The story of how the claim came to be traces back to one of ESPN's most popular TV shows, Sunday NFL Countdown.
Multiple people familiar with the situation tell The Big Lead that Baumann, who is in her mid-40s, had worked at ESPN for 6-7 years as an independently contracted makeup artist. After two years at ESPN, she clicked with the Countdown crew, which features NFL greats such as Tom Jackson, Mike Ditka, and Cris Carter.
Baumann became the main makeup person for the stars of the show for five years, traveling with them to the Pro Bowl in Hawaii and the Super Bowl.
This setup irked some other makeup artists in Bristol. Part of the problem, other makeup artists felt, was that Baumann overdressed for the job – rain or shine, day or night, summer or winter, Baumann would be one of the best dressed women on ESPN's campus. One person who did not want to be quoted for this story said other makeup artists groused that Baumann was decked out, "as if she were about to go out at a high profile club in New York City."
In 2013, a relationship occurred between Baumann and Carter, the Hall of Fame wide receiver. Eventually, the two disclosed the relationship to a senior-level ESPN staffer. According to records obtained by The Big Lead, police were called to Baumann's house twice in early 2013, once because two private investigators showed up claiming to have been "hired by ESPN." The private investigators told Baumann's husband to stop "calling and harassing an employee at ESPN." Here's the police report:
[View police report on mobile.]
That employee was Cris Carter, two people close to the situation told The Big Lead. The Baumanns' marriage broke up and they are divorced.
Carter's agent Maury Gostfrand couldn't be reached for comment.
Early in the summer of 2015, Baumann was fired by the company that contracted her work to ESPN. The owner of the makeup company that fired Baumann, Leslie Atiles, did not return a call or email seeking comment.
[RELATED: Cris Carter Advised NFL Rookies to "have a fall guy" for When They Get In Trouble]
After she was fired, Baumann raised allegations of sexual harassment against Berman, the Countdown host. One person close to the situation said some text messages dating back to 2011 were an issue, and ESPN's senior coordinator producer for Countdown, Seth Markman, had been made aware of some of them by Baumann's husband.
The 60-year old Berman has been with ESPN since 1979, one month after it was founded. In 2008, the Associated Press wrote a Berman retrospective and ESPN VP of Production Norby Williamson said of Berman: "He is our most important person. He is the face of ESPN."
The story came a few months after a series of old Berman rants were uploaded to YouTube by an ESPN employee. Among them was this video, capturing banter with a staffer named Rebecca.
[UPDATE: Here are the 1st photos of Sue Baumann, the makeup artist in this story. They are via the twitter feed of her ex-husband, David Bauman.]
"#suebaumann pic.twitter.com/VrZVsDbPBZ — Dave Baumann (@dodgerboy90) November 14, 2015 #suebaumann pic.twitter.com/W1xOzA83YE — Dave Baumann (@dodgerboy90) November 14, 2015"
Jason Lisk, Ty Duffy and Michael Shamburger contributed to this report.