ESPN's "Film Room" Draws High Praise, Could It Be the Next Evolution in Sports Telecasts?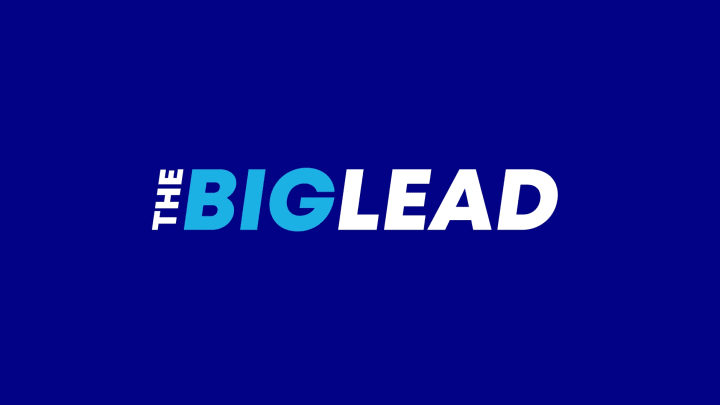 A funny thing happened during Monday night's BCS Championship game: folks on Twitter praised — yes praised — ESPN. Yes, this sounds crazy coming from the place that brought us "First Take," wall-to-wall New York Jets coverage, a perceived East Coast bias and Tebowmania, but as Florida State and Auburn dueled in Pasadena there were plenty of tweets from the wilderness of cyberspace praising the Worldwide Leader for its "Megacast" of the game.
Specifically ESPN drew high marks for the "BCS Film Room" on ESPNEWS that plopped current college coaches Steve Addazio (Boston College), Paul Chryst (Pitt) and Kevin Sumlin (Texas A&M) into an office-looking room with ESPN's Matt Millen, Chris Spielman and Tom Luginbill to breakdown the Xs and Os of the game in real time. The coaches and analysts had access to all 22 cameras used by ESPN during the broadcast and offered up relaxed commentary as the game played out.
If you're scoring at home, ESPN drew high marks for a broadcast that featured Matt Millen, a man who's become one of the easiest punching bags on the Internet. That's, perhaps, the highest praise you could give for "Film Room" — it made people forget Matt Millen was, ahem, Matt Millen.
"Film Room" got its digital gold star early on, when the coaches accurately forecast a second-quarter Florida State fake punt. There were some hiccups as the broadcast wore on, but that is to be expected. It's also hard to gauge how many viewers stuck with it the entire four-hour broadcast. There's probably a limit for how much "inside football" talk one person can handle before their brain turns into Gatorade-flavored soup.
Let's take a step back, and examine the concept of "Film Room" rather than this specific broadcast. Look no further than Millen. As previously stated, if you want an easy, cheap punchline on the sports Internet, he's one of your go-to sources. Monday night Millen was anything but a joke. Could this be because he was in his comfort zone of breaking down football Xs and Os rather than being forced to serve up "hot takes" on a hourly basis during the non-stop parade of "SportsCenter"-like programming? That seems like a reasonable conclusion, doesn't it? By the same token it's often unfair to expect an ex-player or coach to have the media polish as someone who's gone to journalism school and worked at the craft for years.
Bigger picture, in recent years we've seen sportswriting — be it digital, print or otherwise — take a step toward a much more analytical approach. Media folks still writing in the traditional "narrative" style have been increasingly mocked, if only on the Internet by wiseguys who never admit when they're at fault. Ideally there's a blend between using facts to tell and or advance a story, but that's something to discuss another day.
[RELATED: Tim Tebow Talks National Title Game Experience and Homeostasis in ESPN Debut]
"Film Room" was the football broadcast version of this shift. Put a bunch of football coaches in a room together and they're going to be much more interested breaking down "A Gaps" and all other sorts of  inside football information, rather than, say, the girlfriend of the team's starting quarterback. Consider this sort of talk a welcome relief to many football fans tired of the same old cliches we've come to expect on broadcasts. Hell, you might have even learned a thing or two, something you can rarely say of the standard sports broadcast.
I'm not afraid to admit publicly I never played football outside of a backyard capacity with friends when I was a kid. Of all the major sports, it's the one I know the least about from a technical standpoint. Sure I can sit there on the couch like everybody and get mad at a coach for his clock management or lack of balls going for it on fourth down, but the actual execution of the sport? It flies right over my head. Would broadcasters implementing some of the aspects from "Film Room" help increase overall football IQ, or do folks want what they've been getting for years and not have to think too hard while tuning in?
More specifically, the target audience for something like "Film Room" probably isn't that huge, falling rather into the extreme niche category. As much as hardcore football fans, the ones who've been watching every weekend since mid-August, lap up the coachspeak, it probably doesn't appeal to the casual fan all that much, even if it would help educate them in the process.
As quality as it was, "Film Room" or something similar probably works better for big games like the championship game, when a company like ESPN can spread its wings and broadcast the game in an attempt to appeal to everyone — like the bizarre celebrity-infused ESPN2 feed. There's still something to be said for the traditional broadcast, such as Brett Musberger giving us a instant-classic call of Kermit Whitfield's 100-yard kickoff return, which can't be captured by a bunch of coaches.
Ultimately, something like "Film Room" probably works best as an alternative, or in small doses for a couple minutes here and there during an important game such as Monday night's. Let's not forget from a logistical standpoint, outside of the BCS Championship Game, when else are current coaches going to be free to devote their time to something like this?
Even so, having coaches in their element: breaking down film in a relaxed environment, rather than worrying about sounding slick and smart for television and appealing to the hardcore, devoted football fan is something networks ought to consider since there is an appetite for it.
Related: Oklahoma Players Invaded ESPN Stage, Broke It After Sugar Bowl Win