ESPN Won the Peyton Manning Broadcast Sweepstakes (Sort Of)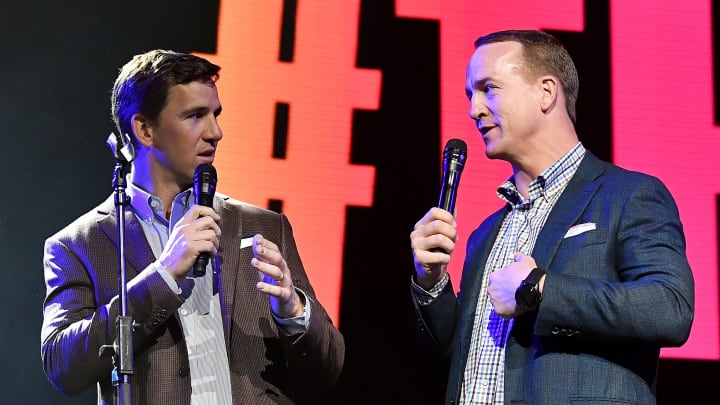 Peyton and Eli Manning / Frazer Harrison/Getty Images
Ever since Peyton Manning retired from football in 2016, the various networks that make up the NFL's broadcast rights holders group have been trying to get him on a broadcast. Manning, however, never showed any interest, no matter if it were NBC, Disney, or FOX calling. The closest he came was signing on with ESPN to do Peyton's Places.
That has now changed. ESPN dropped a huge (and very surprising) PR statement today announcing they had agreed to a deal with Manning's production company, Omaha Productions, to do 10 Monday Night Football broadcasts per season on ESPN2. The broadcasts will primarily feature Peyton and Eli Manning, and the agreement runs for the next three seasons. Per the release:
ESPN and The Walt Disney Company have reached an unprecedented partnership with Peyton Manning and his Omaha Productions company that will result in a first-of-its kind Monday Night Football MegaCast production, featuring both Peyton and Eli Manning. Peyton and Eli, combined four-time Super Bowl champions, will headline the new additional viewing option starting with the 2021 NFL Season through the 2023 season (a total of 30 games over 3 seasons).
The Manning broadcast will air simultaneously with the normal crew airing on ESPN. The two will be joined by a yet-to-be-determined host, and will bring in a rotating cast of celebrities and other famous figures to be a part of the broadcast.
Produced by ESPN, in conjunction with Omaha Productions, the unique MegaCast option will originate from a remote location. Fans will be treated to a mix of in-the-moment analysis, big picture NFL dialogue, knee-jerk reaction, historical perspective, and more. Peyton and Eli will be joined each week by a to-be-determined host. Iconic and current athletes, as well as celebrities, are expected to appear throughout the season. Fans will never miss any of the action, as a multi-box viewing experience will ensure the game is always visible.
To say this is unexpected would be a big understatement. All of the networks responsible for airing football games have all been trying to woo Peyton for years. Instead of taking on a traditional color commentator role and becoming somebody's Tony Romo parallel, Manning is taking matters into his own hands. It's an unprecedented amount of power for a network to give to anybody over these ever-so-lucrative NFL broadcasts. But that's the power of being Peyton Manning.
This is almost certainly going to be more popular than the regular broadcast on ESPN. Anybody who pays for ESPN also pays for ESPN2. Once viewers get used to switching to ESPN2 instead of ESPN, it is not difficult to imagine the Manning brothers broadcast outpacing every other broadcast team in the game in terms of popularity, much less their counterparts at the Worldwide Leader.
These are, of course, very high expectations for two rookie broadcasters. We don't even know what the broadcast will actually look like. But both Manning brothers have proven their comfort on television in different formats over the years. Both are knowledgeable about the game with a combined 34 seasons of NFL experience. Perhaps most importantly, both are household names for NFL fans with their respective playoff successes.
It's a risky experiment. With Peyton's production company involved, who knows how the final product will look. But ESPN won the Peyton Manning broadcast sweepstakes, and it could ultimately be the most important talent acquisition for the network in a very long time.