ESPN Personalities Already Sick of Talking About the Lakers, Powerless to Do Anything About It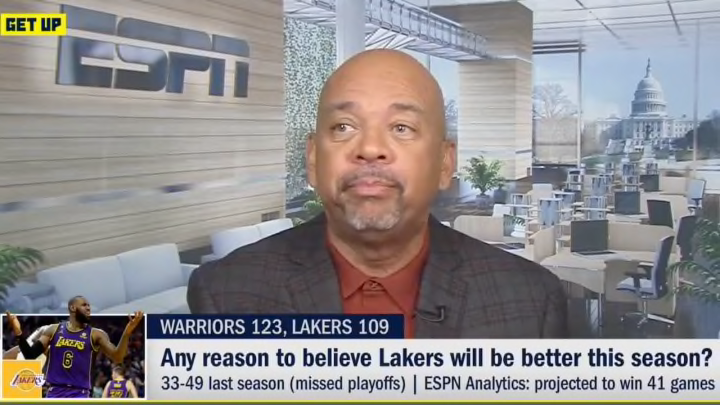 We are less than 24 hours into the 2022-2023 NBA season. So far two games have been played. The Los Angeles Lakers were involved in one of those games, which they lost while highlighting the issues that should plague the team all season. And it sounds like they are already as sick of talking about the Lakers struggles this season on ESPN as you probably are hearing about them.
Here's Mike Wilbon, in a rare PTI / First Take / Get Up crossover event, talking about how he doesn't want to talk about the Lakers with Mike Greenberg, Stephen A. Smith and Adrian Wojnarowski.
"I just hope that we are not held hostage on Countdown, or whatever else we're doing on this network, your show and Stephen A.'s and mine. To talk about the Lakers every day, because some of us aren't going to get into this hand-wringing. I'm not. Except when you guys shove me into it which I'm sure we will tonight. The Lakers aren't any good."
Wilbon is actually quite optimistic about the Lakers compared to most people because he said that if they stayed healthy they had a shot at the 6-seed. And that's honestly the first time I've seen someone suggest they had a shot at making the playoffs without going through the play-in tournament.
JJ Redick is less optimistic and would rather we focus on the positives... er... single positive, LeBron James.
"I look at the Lakers season that we should treat this season as a celebraiton of LeBron's individual greatness. Because he will at some point hopefully pass Kareem Abdul-Jabaar and become the all-time leading scorer in NBA history. And that should be what this season is about."
There are currently 81 games remaining on the Lakers schedule. The on-air talent appears to be in for a long season of arguing with producers about topic choices.