ESPN's 'Get Up' — 'First Take' Crossover Event Will Finally Get Mike Greenberg and Stephen A. Smith Some Airtime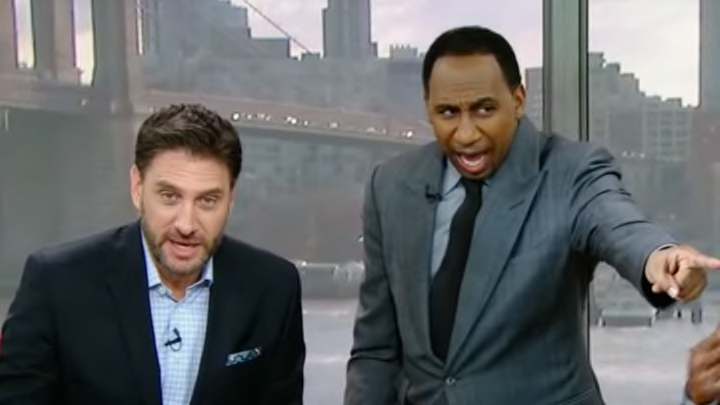 Have you ever turned on ESPN and seen Mike Greenberg, but wondered where Stephen A. Smith was? Have you ever been watching a classic Stephen A. Smith rant and wondered what Mike Greenberg was up to? That is a thing of the past as ESPN has announced a morning show crossover event for First Take and Get Up. Via Variety:
Smith, Greenberg, Michael Irvin, Molly Qerim, Rex Ryan, Dan Orlovsky and more will make appearances across the two shows' four hours and analyze weekend NFL play as well as discuss a game between the Denver Broncos and Los Angeles Chargers schedule for ESPN's "Monday Night Football."
This is a game-changer, folks. Can you imagine what it will be like to have ESPN's top two personalities on the same set? Why, we haven't seen that since they both regularly appeared on NBA Countdown last season with Greeny hosting and SAS as a regular commentator.
Or maybe when Stephen A. Smith shows up on Get Up.
According to Variety, this was Greenberg's idea and Stephen A. "quickly adopted" the idea. First Take and Get Up are filmed at the same facility. Molly Qerim, who co-hosts First Take with Stephen A. Smith, will certainly be excited to finally share a set with Greenberg, which she hasn't done since she was regularly appearing on Mike & Mike.
And the idea of Rex Ryan on First Take debating Stephen A. Smith? Why that hasn't happened since, uh, April 22, 2020. Oh, and it appears that Get Up regular Dan Orlovsky was on First Take that day as well. Just like he was yesterday.
I know what you're thinking. Clearly, Michael Irvin and Mike Greenberg would make for explosive television. We certainly have never seen that, right? Not unless you count this remote appearance right at the start of the pandemic.
Literally every person mentioned in this news item has shared the screen with everyone else at one time or another. Most of them have literally been on the other shows previously. Because that's what ESPN does. They have these people go on everything. They already do this. I'm reminded of Clerks: The Animated Series.
This is not Benson and Stabler showing up on the rebooted, old school Law & Order. It's not Must See TV. It's not even Steve Urkel showing up on Step By Step or Full House. These are just co-workers appearing on TV together, which they do every day.
The important thing is that Greeny and Stephen A. finally get some airtime. Smith is clearly looking for an outlet for his opinions as he's had to go on Hannity and Jake Paul's podcast recently. Meanwhile, Greenberg obviously has way too much time on his hands now that Malika Andrews as the host of NBA Countdown Wednesdays. Now all he has is Get Up and his radio show. These guys need exposure.