Elly De La Cruz is a Delight On And Off the Field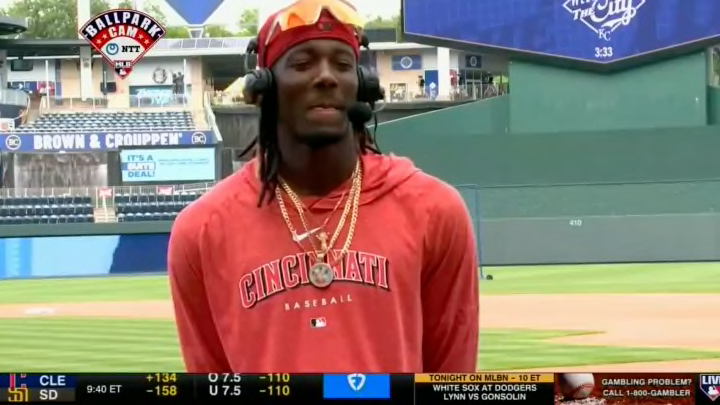 Elly De La Cruz /
In case you haven't heard, Elly De La Cruz of the Cincinnati Reds is the newest baseball phenom. The 21-year-old shortstop was called up to the big leagues for the first time eight days ago and immediately made an impact. In his first week in the majors, EDLC has hit a 458-foot homer, lined a single with an exit velocity of 109 mph, stolen three bags, and whipped a 96 mph throw to first. One need not look any further for the walking definition of a five-tool player, and De La Cruz boasts incredible physical traits to boot.
There hasn't been a Reds player this fun to watch in a long time and it was one of the most electric MLB debuts in recent memory. Tuesday night, after De La Cruz scored a run in a 5-4 win over the Kansas City Royals, he did an on-field interview with Intentional Talk and showed he's fun off the field, too.
The first half of the interview took place in Spanish, with Siera Santos translating questions and answers. A pretty cool thing to have air on MLB Network.
The second half featured De La Cruz answering some more fun questions while working on his English. And also kind of playing rock, paper, scissors with Ryan Dempster (who called it paper, rock, scissors, for some reason).
We're looking at face of the franchise material here, folks. Better get used to the name. Elly De La Cruz is here to stay.