The 'Tush Push' Backlash Is Ridiculous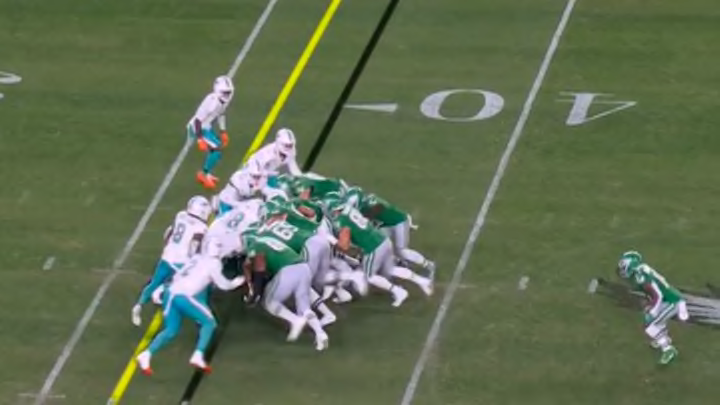 The Philadelphia Eagles appear to have angered the rest of the NFL with one offensive play. Their often-used "Tush Push" or, alternatively, the "Brotherly Shove" is ticking off opposing teams and fanbases around the league. And it's all really stupid. Philly is exploiting a rule and making the most of it. The team is being smart and it's helping them win games.
Here's video of the play:
And another:
And one more:
It is essentially a quarterback sneak, where several teammates line up behind quarterback Jalen Hurts and push him forward. It has an incredibly high success rate. Whereas normal quarterback sneaks work about 81 percent of the time, the Eagles success rate is well above 90 percent and rising. They were 4-for-4 on it Sunday night in a win over the Miami Dolphins.
On Monday, the backlash flooded the Internet. Then the backlash to the backlash quickly began.
Joe Schad, who writes about the Dolphins for the Palm Beach Post said the "Tush Push" was "not a legitimate football play."
Several people weighed in on just how horrible that take was:
To be fair to Schad, he's not the only one to express this sentiment. Plenty don't like the play, but that's really too bad for them.
What the Eagles are doing is entirely within the rules and every other team is welcome to do it as well. Sure, maybe it has become an uncompetitive play because defenses are nearly helpless to stop it, but that doesn't mean Philadelphia is doing anything wrong. If anything, Nick Sirianni and his staff should be praised for being innovative.
Calling it "not a legitimate football play" is hilarious. As Rodger Sherman pointed out, the "Tush Push" is what almost all football plays looked like back when the sport was in its infancy.
Adding leather helmets is only thing that could make the "Tush Push" more of a legitimate football play.
Do I think the NFL will examine and possibly change the rules in the offseason? Yes. I believe the league will claim a risk of injury as the reason for halting offensive players from shoving their teammates from behind. Or it's possible they'll stop allowing quarterbacks to be push within three yards of the line of scrimmage or something.