Eagles Bizarrely Called For Offsides on Patented QB Sneak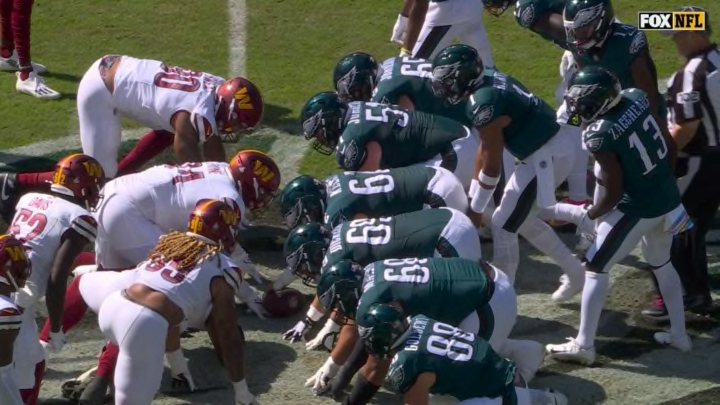 Eagles Commanders /
On Sunday the Philadelphia Eagles were facing a fourth-and-one from midfield during their 1pm matchup with the Washington Commanders. Jalen Hurts and the rest of the offensive line appeared to successfully execute their patented QB sneak (AKA the "tush push") that has gotten people up in arms all over the NFL. However, a flag was thrown on the play.
It turns out the officials called the Eagles for offsides. Yes, they were on offense and got called for an offside. How? Well, the refs ruled that left guard Landon Dickerson had his hand in the neutral zone when the ball was snapped. Which is... weird! Here's the above view:
And a screenshot of the side view:
As pointed out by the above user Commanders DT Daron Payne has his hand milimeters from the football and was not flagged. So not only was the call dubious it came at the cost of ignoring an actual penalty on the defense.
Maybe this is how the league is trying to fix this. For whatever reason Philly's QB sneak really gets on people's nerves. Chris Simms was out here calling for defenses to start headhunting Hurts in response. Complaints abound about how it's "not football."
Perhaps the NFL is listening. Either way, a pretty ridiculous call.