Eagles Fans Very Upset Over Questionable Pass Interference Call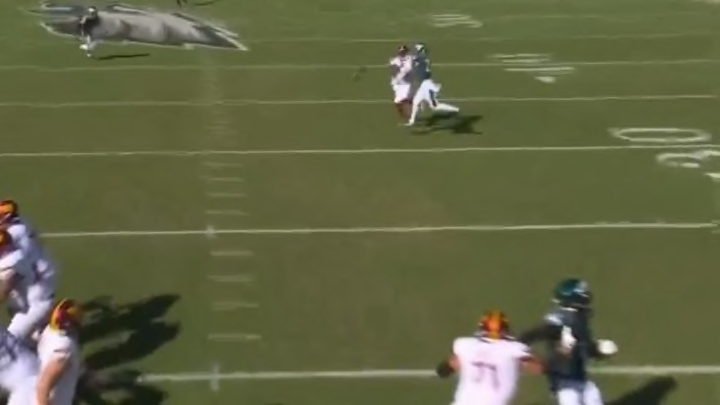 Darius Slay /
The Philadelphia Eagles were struggling mightily against the Washington Commanders on Sunday afternoon. The presumptive favorites in the NFC couldn't get much going against their NFC East rivals and the referees were not helping matters. They threw a pretty iffy flag on the Eagles' patented quarterback sneak play and then managed to piss off the greater Philly area with a pass interference flag. The problem is that it didn't really seem like that bad of a flag.
The Eagles were down 17-13 in the third quarter when Sam Howell dropped back to pass and targeted Terry McLaurin on second down. Darius Slay appeared to cleanly break up the slant pass and the Commanders prepared for third down. But a flag came in very, very late and the refs called Slay for PI. There aren't many super clear videos of the play but here's what we got. You can judge for yourself.
It certainly was not a good call but you can see the vitriol above. Eagles fans are very unhappy.
While a phantom pass interference call is always frustrating, you'd think it was a key play in the fourth quarter of a playoff game or something based on the reaction. Not a second-down play against the Commanders in Week 4.
However bad the call might've been it appears to have rejuvenated the Eagles as they forced a punt on the next set of downs, then scored a touchdown. So not all bad in Philly!