Drew Brees Out at NBC After Only One Season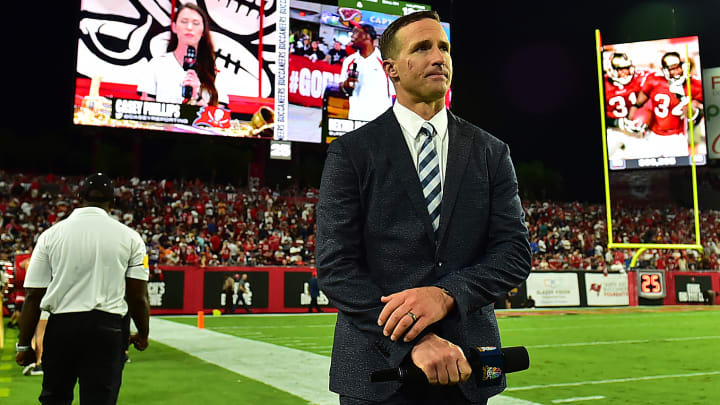 Drew Brees / Julio Aguilar/GettyImages
Drew Brees' rookie season with NBC as an NFL analyst will be his only one. Andrew Marchand of the New York Post reported on Sunday afternoon that Brees was out at NBC. Per the Post:
Legendary NFL quarterback Drew Brees will not return to NBC after just one season as a studio and game analyst, according to sources. 
As Marchand notes, the separation appears to be a mutual decision based on what both parties wanted. Brees wanted to be on broadcasts and not just stuck doing pregame and halftime shows, but NBC only gets one game per week during the season and the network is currently negotiating an extension with longtime Sunday Night Football analyst Cris Collinsworth. It seems the allure of calling Notre Dame games wasn't enough to keep Brees around if he wasn't going to be on the broadcast every week.
Brees wasn't awful in his first season in the booth but Tony Romo he was not. Which isn't really a mark against him. Romo is an anomaly. Brees still has a modicum of star power and flashed enough potential to think he could be a good analyst in the near future. Marchand mentions Fox as a potential new home for the former Saints QB, which would make a lot of sense. The Tom Brady news has rightfully dominated the Fox Sports discussion but they still don't officially have a new analyst to call games alongside Kevin Burkhardt in the No. 1 booth.
Brees didn't do enough to justify that kind of promotion, but Greg Olsen seems the most likely choice which means the No. 2 booth at Fox would be without an analyst. Scooping Brees after his NBC tenure didn't work out for reasons mostly unrelated to his quality of work would be a smart pivot that solves immediate problems while giving Brees the opportunity he's looking for.
Brees leaving NBC is undoubtedly disappointing for both sides but it could prove very beneficial for Brees' broadcasting dreams.