Draymond Green Put Rudy Gobert in a Chokehold During Warriors-Timberwolves Brawl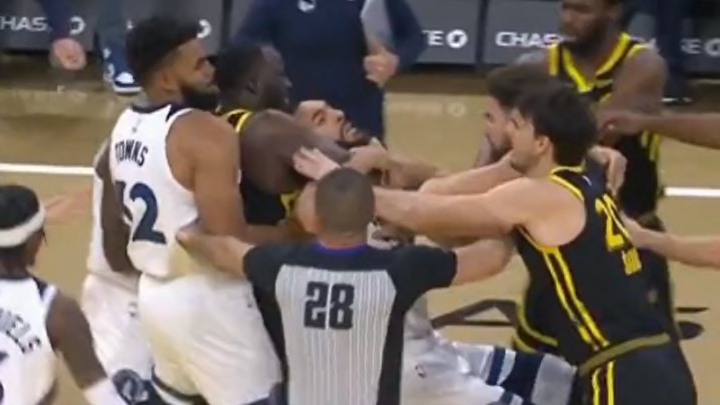 The Golden State Warriors and Minnesota Timberwolves got into a fight less than two minutes into their game Tuesday night. It started when Klay Thompson and Jaden McDaniels began scrapping near mid-court, then everyone got involved and at one point Draymond Green put Rudy Gobert in a full-on chokehold. It was nuts.
Check this out:
And here's a longer look with a replay:
Here's a close-up of Green and Gobert:
Another angle:
And a still:
McDaniels and Thompson were ejected, as was Green. That was the extent of the punishment. The Timberwolves went on to beat the Warriors 104-101.
The animosity between the two teams has been brewing since they faced each other on Sunday. Green and Anthony Edwards got into it that night and were jawing at each other for a while.
The bad feelings have clearly lingered and led to Tuesday night's brawl. It's almost certain the NBA will suspend Green for what he did to Gobert. There's no way the league can let that stand.