Internet
Donald Trump Welcomed the NELK Boys to Mar-a-Lago to Tape the 'Full Send Podcast'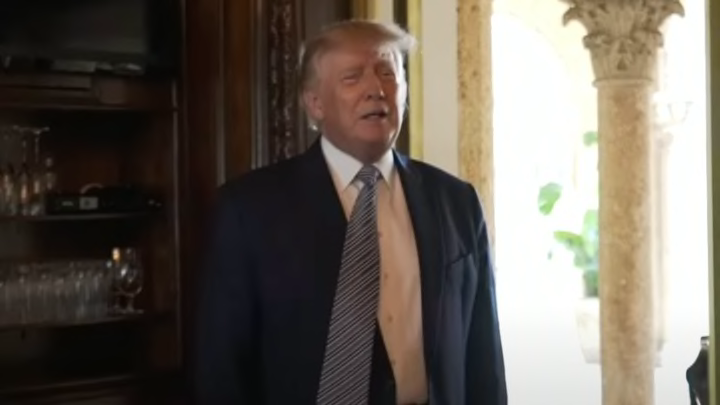 Donald Trump did a podcast appearance this week, sitting down for nearly an hour with the Nelk Boys on the Full Send Podcast. The interview appears to have been facilitated by UFC president Dana White. Trump took the opportunity to push The Big Lie and jumped from topic to topic in a stream of consciousness that only Trump can truly pull off.
If you're unfamiliar with this particular group that gained access to the former president at his home base in Mar-A-Lago, they are YouTuber pranksters (originally from Canada according to Wikipedia) who have branched out into interviews with people like Dana White, John Daly, Candace Owens, Bryson DeChambeau, Jake Paul, Dan Bilzerean and Shaq.
As you can see, no matter who the guest is, they do so while promoting their Happy Dad hard seltzer. We've seen a lot of unique things in the Trump era, but a guy in basketball shorts and a hoodie (in what must be a violation of the club dress code) sitting next to a torn open 12-pack of seltzer as he asks Trump when he last spoke with Putin is right up there.
Trump doesn't say anything truly notable that you haven't heard before. In fact, this might as well have been talking to Sean Hannity on FOX News. Except for the fact that these guys know Dana White, there's almost no recognition of the fact that this is a highly unusual group of people to be interviewing a former president.
In fact, only one person seems to grasp how wild the entire situation really is: This guy.
This is five minutes into the interview. Trump is talking about the price of oil and this dude is on his second hard seltzer and he seems to be the only one who has realized how insane this situation is.
His friends then proceed to call Trump, Donald, Don and Donny for the next half hour before finally asked him about how good of a DJ he is. Here's that dude reacting to Trump describing YMCA, a song that really gets people moving at Mar-a-Lago parties, as the "gay national anthem."
That pretty much sums it up.