Latest Roundup Leads
Roundup: Donald Trump; 25th Amendment; Sedition; Treason; Riots; Resignations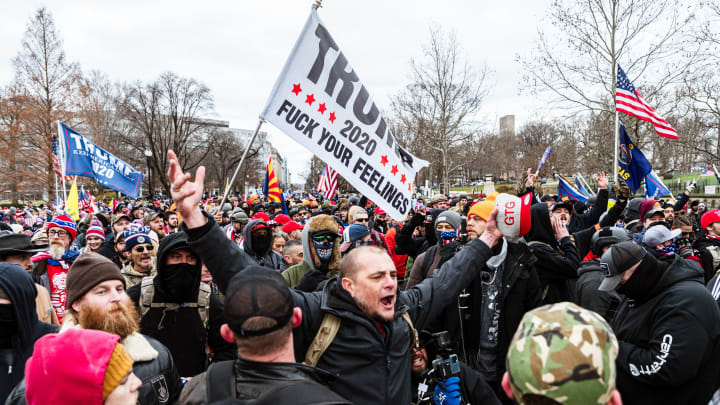 Trump Supporters Hold "Stop The Steal" Rally In DC Amid Ratification Of Presidential Election / Jon Cherry/Getty Images
Joe Biden has picked Merrick Garland as the new attorney general ... hey, if you recognize anyone from this thread, please contact authorities ... Katie Couric will guest host Jeopardy! ... someone tried to rob Dr. Dre's house while he was in the hospital ... prepare for the spread of the new coronavirus variant ... Macy's will close dozens of stores this year ... Eric Trump threatened to work for the first time in his life ... George W. Bush's statement about yesterday's events ... Melania's chief of staff has resigned ... other White House officials are also considering walking away ... two Louisville police officers involved in the Breonna Taylor murder have been fired ... the woman who died at the US Capitol yesterday was a Trump supporter ...
The Kansas City Chiefs are the Super Bowl favorites. [ESPN]
Markelle Fultz suffered a season-ending ACL injury. [Shams]
Here's a podcast about yesterday's events. [The Ringer]
Donald Trump, Josh Hawley and Ted Cruz will all wear the scarlet 'S' of seditionist. [WaPo]
How the WNBA helped the Democrats take control of the Senate. [The Guardian]
Here's how the Jaguars coaching and GM searches are looking. [Big Cat Country]
Here's the full NHL national television schedule. [NHL]
Chase Young not sorry about calling out Tom Brady. [ESPN]
The Dead Kennedys have been active on Twitter.