Dolphins Owner Stephen Ross Tries to Waddle After Jaylen Waddle Touchdown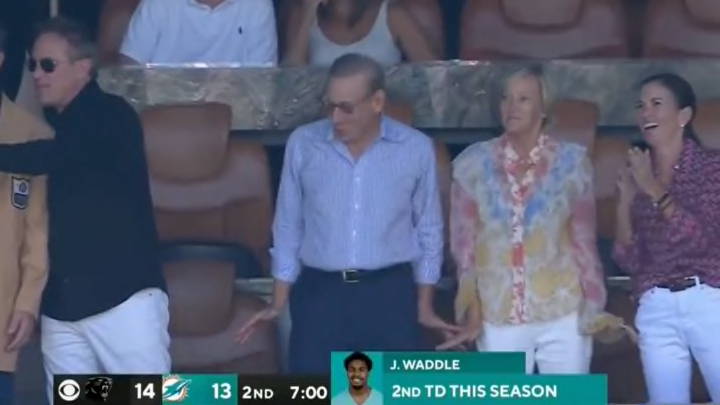 Stephen Ross /
The Miami Dolphins got off to a shockingly slow start against the Carolina Panthers on Sunday. Despite being rather significant favorites, the Dolphins were down by 14 to start the second quarter thanks to two punts from the offense and two long touchdown drives given up by the defense. However, they quickly got their act together and marched down the field on the third drive to score their first TD of the day.
Miami kept the momentum by turning the Panthers over on downs on the very next possession, then went all the way down and scored yet again. This time they did so by throwing a touchdown pass to Jaylen Waddle. Waddle celebrated by doing his patented celebration, the Waddle. The CBS cameras then did everyone a favor by flashing to the Dolphins' owner's box, where owner Stephen Ross was caught in 4K attempting to do the Waddle along with his family.
Points for effort from the billionaire, is all we'll say.
The Dolphins completed their cascade of points a few minutes later by throwing a deep touchdown pass to Tyreek Hill. So basically everything reverted back to normal after a strange opening frame. Good to know that there are still constants in this life-- death, taxes, and this year's Dolphins scoring in bunches.